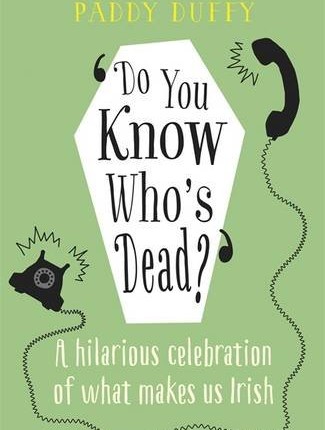 LOCAL radio schedules put as much focus on death news as Sky Sports do on Transfer Deadline Day. As other nationalities ask 'Isn't this weather awful?', we ask 'And what time is the funeral?'
Such details are an opening into the psyche of the Irish mind and are contained in the first few lines to Paddy Duffy's new book 'Do You Know Who's Dead?' which was published yesterday, Thursday.
Paddy Duffy is a former Donegal News columnist, broadcaster and television maker from Argony, Donegal. He is currently working on a documentary series about the US President Barack Obama.
'Do You Know Who's Dead?' is a hilarious celebration of all things unmistakably Irish, as it describes our distinguishing features – big and small – in politics, music, culture, sport and more.
"The story of Ireland is more than just Cromwell hating on Connacht and Eamon de Valera trying to create a nation that was Mary Berry levels of wholesome," he said.
"It is not just of big moments, but of little, crucial comforts. It's a story of elegantly rambling anecdotes, surprising gifts to the world, adored delicacies, thirteen-verse-long songs, outspoken lunatics, strongly held trivial opinions and audaciously rewritten rules of syntax," he added.
The book contains a series of stories, sketches and short essays on the eclecticism of the Irish experience from mythology to geography, via food, culture and much more besides.
Do You Know Who's Dead? Includes descriptions and musings on the following:
Summers in Ireland
'Offering slides, some sort of whirlpool effort and a simulated wave machine that gives you all the fun of outside neap tides without the sand at your feet, Waterworld is a rite of childhood passage, where a happy day goes in the blur of claustrophobic multicoloured tubing.'
Cowboy boots
'Incredibly for a singer in his genre, he (Daniel O'Donnell) made the Top 20 of the UK charts in 1992 with 'I Just Want To Dance With You', even making it onto Top of the Pops. In the most beautiful piece of culture clash imaginable, the number one that week was The Shamen's 'Ebeneezer Goode', a song about ecstasy use. The strongest thing Daniel would ever have was a minty Viscount with his tea.
Minerals
'Football Special was invested in Ramelton, County Donegal as a tasty alternative to filling sporting trophies with an alcoholic beverage – champagne being too effete and having Guinness settle in it would take longer than the engraving. The spectacularly niche origin of the drink was reflected in the places you could get it: basically nowhere outside the county.'
Mythology
'There was a time, when Ireland was lost, when a stranger from the north of England changed everything. Before you knew it, thanks to the hard work and charisma of one man, things turned around and we became a nation of true believers. You have to admit, St Patrick and Jack Charlton are pretty similar.'
The Rose of Tralee
'Nobody seems to know what happens after you've won. It seems to involve being given a car for a year and visiting places, like Kate Middleton in a VW Golf. But what stories she'll have when she goes back to her teaching post in Dubai…'
Biscuits
'All three varieties of Snack – yellow, purple and pink – hold an important and distinct place in Ireland's complicated biscuit ecosystem. Your favourite among them being a better personality indicator than a Myers-Briggs test.'
Paddy Duffy's debut book, Did That Actually Happen? was published in 2013, the same year he was crowned World Music Quiz Champion – he's equally proud of both achievements.
"I hope this journey through some of the things that have preoccupied us over the life of Ireland – and not just the deaths – gives us a good sense of us, a good bit of knowledge and, most of all, a good laugh," he said.
Do You Know Who's Dead?, published by Hachette Ireland, went on sale nationwide yesterday.
Posted: 5:06 pm November 5, 2015