SINN Féin Finance Spokesperson Deputy Pearse Doherty has called on Minister Simon Coveney to give assurances that the activities of Lithunian-registered fishing trawler 'The Margiris' is closely monitored whilst in Irish Waters.
A number of local fishermen have expressed concerns following reports that 'The Margiris', which is one of the biggest fishing vessel in the world, is currently sailing the waters off the west coast of Ireland.
The vessel, which was previously banned from entering Australian waters, is now registered in Lithuania meaning that it can freely enter European seas including Irish fishing waters in what is termed the Irish European Economic Zone.
Deputy Doherty has submitted a Dáil Question to the Minister in relation the vessel asking the authorities to ensure that the vessel fully complies with all existing control regulations whilst it remains in Irish fishing water.
"This massive ship is capable of processing huge quantities of fish each day and local fishermen are rightly concerned about the impact which its activities will have on the industry here.
"While I understand that the fishing industry is heavily controlled by EU Regulations and that many local fishing communities rightly feel aggrieved by the fact that these rules have destroyed their industry and indeed their very livelihoods, the least the Government here can do is ensure that the activities of huge ships such as the Margiris are routinely and strictly monitored and observed as soon as they should enter our waters.
"This is a perfect illustration of just how badly our fishing communities have been represented by successive Irish government in that we have a situation whereby a foreign registered ship – the second largest fishing vessel in the world in fact –  can enter our waters unimpeded to fish while our own fishermen are banned from doing the same," Deputy Doherty said.
Posted: 11:42 am November 11, 2015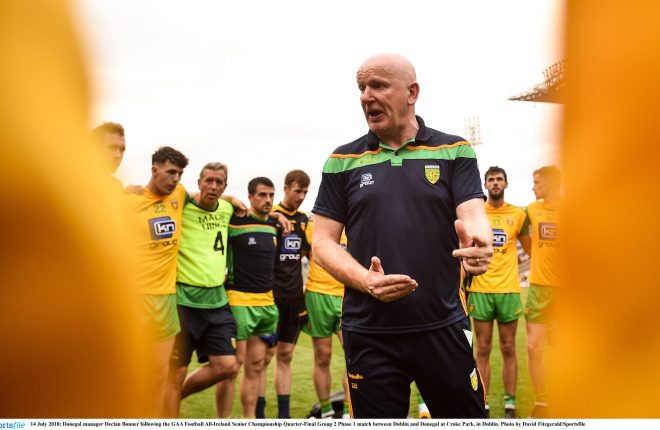 Donegal face Roscommon in Dr Hyde Park on Saturday at 5pm.