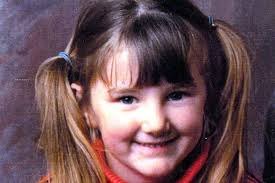 BY C.J.MCGINLEY
THE twin sister of Mary Boyle (6) who went missing in 1977 was last night continuing to give gardai a statement on the identity of the alleged killer.
Ann Doherty is in Pearse Street Garda Station since around 5 pm. She
has been joined by country singer Margo O'Donnell, a cousin and former neighbour of the Boyle's, who also claims to have information about the disappearance of Mary.
Mary Boyle went missing from her grandparents farm at Cashelard near Ballyshannon on the 18th of March 1977.
Speaking to the Donegal News last night Journalist Gemma O'Doherty said that Ms. Doherty claims the person responsible for her sister's murder was known to her.
She says the investigation and calls for an inquest have been frustrated for years and Ann Doherty is now pleading with the Garda Commissioner to take action on this case and make an arrest.
"The twin sister of Mary Boyle today made a formal statement to Gardai about the identity of the person she believes murdered her sister.
"Ann will claim Mary was killed by somebody known to her. She says she has been frustrated by an Garda Siochana in her efforts to find Mary's remains and bring her killer to justice,"
Ann Doherty will allege that on a number of occasions she was told the identity of the killer by a person close to her, but neither that person nor the suspect have ever been arrested.
Doherty is pleading with Gardai to arrest the suspect. She will also state that she was informed by a senior Garda that there was political interference in the case, which she believes prevented Mary's killer from being brought to justice.
The former officer claims that a politician made contact with Gardai in the days after the child's murder and made an unusual request in an effort to hinder the investigation. This
Garda also believes Mary Boyle may have been sexually assaulted before her death, a fear shared by her sister Ann.
The officer has also said that he was told the identity of the killer by somebody close to Mary on a number of occasions.
Margo, a former neighbour and cousin of the Boyle family, has spent many years searching for the little girl's remains.
She claims that on three separate occasions she was told by a person close to Mary the identity of the killer but says every time she has spoken to Gardai about the case, she has been dismissed.
She describes the killing as a 'massive Garda cover-up.
Ann Doherty believes that if the person she says killed Mary had been properly investigated and questioned by Gardai, they would have confessed to the killing. She is also certain that the individual can still be brought to justice and the remains of her sister found.
Ann believes her sister is buried somewhere on the 180 acres of farmland in Cashelard, Ballyshannon, once owned by her late grandfather Patrick Gallagher. Some of this land is deep swamp. She rejects suggestions by certain Gardai and reporters that Mary was snatched by a stranger, a claim she describes as 'ridiculous.'
She says through the years she has begge Gardai to take certain actions. She also says they have refused to speak to her and that their only point of contact with the family is her mother, Ann Boyle.
When Ann Doherty sought an inquest in recent years, she was told that this was not possible as Mary may not be dead. A person is considered to be deceased if they have been missing for more than seven years. Mary disappeared 38 years ago.
Ann Doherty wrote to the Minister for Justice Frances Fitzgerald earlier this year requesting a meeting but this request was not been granted. Ann will attend the Gardai today in the company of her solicitor Darragh Mackin of Kevin Winters Solicitors, a human rights law firm based in Belfast.
Posted: 8:02 pm October 1, 2015