SOCCER: Irish Daily Mail FAI Cup Final
BY HARRY WALSH
JOHNNY Dunleavy will look to become only the second Donegal man to lift the FAI Cup next month when Cork City and Dundalk meet in what has been dubbed the 'dream' final.
The versatile Dunleavy, whether deployed in defence or midfield, has been a key player for Cork City boss John Caulfield these past two seasons and he's keen to bring some sliverware back to Turner's Cross.
Twelve months ago, the 24-year-old Ballybofey man came agonisingly close to becoming the first Donegal man to captain a League of Ireland Premier Division winning team (they lost out to Dundalk in a final day shoot-out) and he's looking to go one better this time around.
"It would be an amazing thing to do but our total focus will be on our performance. If we take care of that I think we'll be a match for anyone," he said.
It's Wednesday morning and although it's Johnny day-off he has pencilled in a gym session as he works his way back to full fitness.
It's been a frustrating season for Dunleavy who spent ten weeks on the sidelines after undergoing surgery on the knee injury he sustained in a 1-2 defeat to Dundalk at Turner's Cross back in April.
Within six weeks of his return he broke his cheek-bone in a clash of heads against Limerick, an injury which meant another month long rehabilitation programme with the club's medical staff.
"It has been a stop-start season to be honest but I'm working up my sharpness once more. I've managed to play the last six games or so and hopefully I'll be able to play the remaining league games and then we can look forward to the Cup final," he said.
A trainee and then a young professional at Wolverhampton Wanderers, Johnny was released by the Molineaux club in the summer of 2011. A subsequent trial with Vancouver Whitecaps didn't get any further and he was linked with League of Ireland clubs, including Derry City and Dundalk, before Cork came calling.
He's well settled now in Cork and although his contract is up at the end of the season he's hoping to extend his stay in the Rebel county.
The appointment of Cork legend John Caulfield as the new manager two years ago has helped. Caulfield won the Premier Division with Cork in the 1992/93 season and is the club's record appearance holder (455) and joint top-scorer with Pat Morley on 129.
"He's a special man – and manager. He has such pride in Cork City. You just wouldn't believe what the club means to him," he said.
Last month Caulfield agreed to a two-year extension to his own contract.
"He's brought passion back to the club. The fans have really taken to him. Last year we nearly won the league and this year we were battling it out for honours once more," he said.
Dundalk, the team who pipped them to the title last year, retained the crown this time around and the Lilywhites are gunning for a domestic double.
"They're a great team and have played really well this year but we let a couple of results slip at bad times. Our head to heads with them have been very close and I've no doubt that the cup final will be another battle. Hopefully this time though we'll come out on top," he said.
The 2015 final is scheduled for Sunday, November 8 and will be the sixth time the game has been played at its new home in the Aviva Stadium.
"I've been there to watch a few games but I've never played there. It's a phenomenal stadium," he said.
"There will be a bus load from Ballybofey up for the final and I just hope that I can stay injury free and get the opportunity to play in the final," he added.
His father Brendan – who played a remarkable 137 games for Donegal in the 1970s and 80s, winning an Ulster title in 1983 – is the current MacCumhaills senior team manager and he will be among those in attendance.
As a teenager, the young Dunleavy held the hope of one day joining Finn Harps and he continues to watch their progress with interest.
"I went to watch them when they played Cobh down here a few weeks ago. I still keep in contact with a few of the lads and I hope they do well in the play-offs" he said.
No doubt the footballing community in Ballybofey, Donegal and throughout the North West will be supporting Johnny Dunleavy and Cork City in their bid to win the oldest football competition in Ireland, the FAI Senior Cup – the Blue Riband event for clubs in Ireland in a competition that dates back to 1922.
Posted: 7:21 am October 16, 2015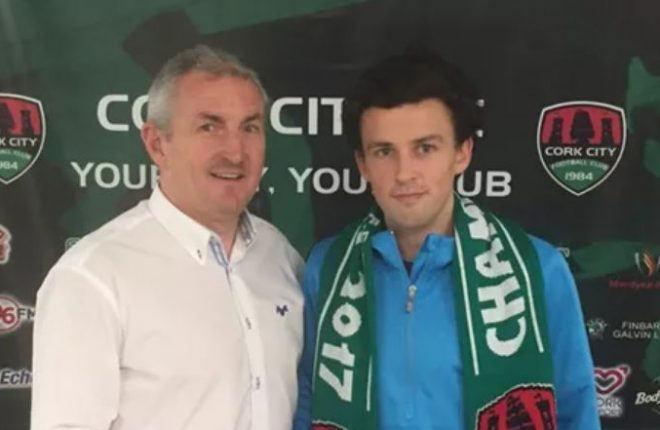 AFTER spending the festive period in Las Vegas and San Francisco, Barry McNamee will return to Ireland this week...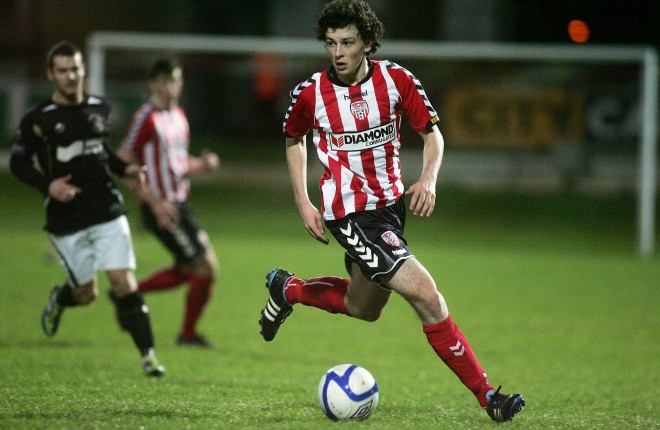 Barry McNamee is expected to sign for the league champions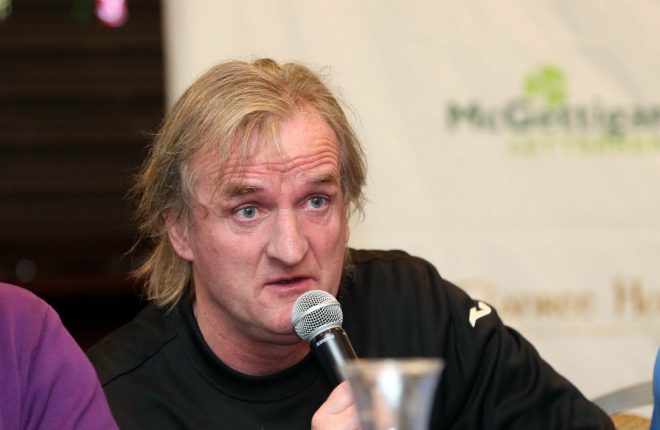 For third time in two seasons, Cork prevailed 1-0 in Ballybofey