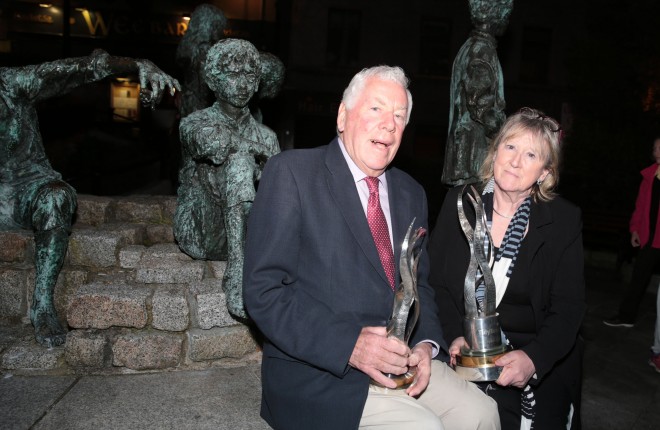 BY C.J.MCGINLEY
HUNDREDS of people took to the streets last night as Letterkenny celebrated its new found status as the tidiest town in Ireland.
A delegation from the Tidy Towns Committee were paraded through the town to the Market Square for an official homecoming reception.
This is the first time in 57 years Letterkenny has won the prestigious national title.
Letterkenny beat 860 villages and towns across the State to become the eighth town in Donegal to win the award since the competition began in 1958. Letterkenny was also named as Ireland's tidiest large urban centre.
It is the first time the national title has come to Donegal since Glenties won it in 1995.
Speaking last night the Chairperson of Letterkenny Tidy Towns Anne McGowan said they were still trying to take it all in.
"We're absolutely delighted and can't believe it. For over 50 years we were entered into the competition, but we always kept the faith we'd someday win the national title and today that dream became a reality," she said.
"This award is for the people of Letterkenny. We have bands of volunteers. Our aim is to enhance the town in a planned and co-ordinated way to make it a lovely place to work, live and do business,"
"We will now hope to retain the award and continue to enhance Letterkenny," she added.
The Mayor of Donegal Cllr Ciaran Brogan said it was a joyous and proud night for Letterkenny.
"We have gone through many plans and challenges over the years. Today's reward is the All-Ireland for Letterkenny," he said.
Mayor of Letterkenny Municipal District, Cllr Gerry McMonagle, said it was a huge achievement for Letterkenny.
"The committee has put in enormous work for 50 years and today is the pinnacle of that work," he said.
Posted: 9:11 pm September 28, 2015