2015 will be the eighth year of the Dunfanaghy Jazz and Blues Festival and everyone is looking forward to another great line up of bands.
There will be some familiar faces returning to support a great weekend and some new bands performing for the first time.
A huge thank you to Fintan Moloney as the main sponsor of the festival and of course to the local businesses for their support for helping with the Fundraising and advertising in the annual brochure and website.
It couldn't happen without them! The information kiosk will be in the square again this year to provide information on the festival and the Sheephaven Bay area.
It will have information on other events happening throughout the year, so why not find another great excuse to return to the picturesque seaside village of Dunfanaghy and of course check out www.dunfanaghy.info and see what is going on in the area.
This Festival is definitely one to add to your calendar as it is set in the picturesque seaside village of Dunfanaghy with great bars and restaurants and a fantastic line up of local, national and international bands.
To see the line up log on to www.dunfanaghyjazzandblues.com or purchase our flyer and support two very worthy local charities The Donegal Hospice and The Creeslough Day Centre
SPONSORED CONTENT BY DUNFANAGHY JAZZ AND BLUES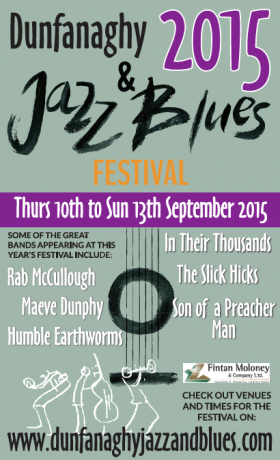 Posted: 8:00 pm September 4, 2015