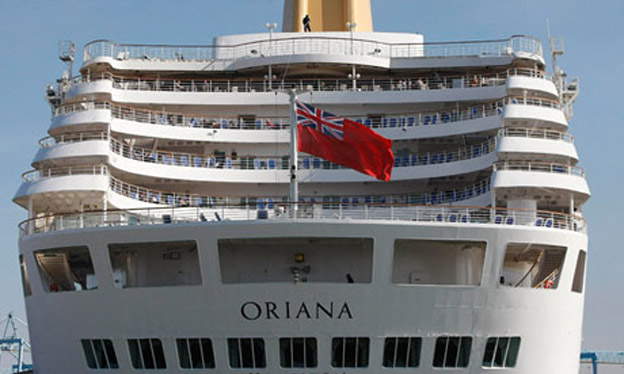 THE P&O Cruise ship, "Oriana", which brought 1,600 passengers to Killybegs in June will be making a return visit to the town, it has been confirmed. The 69,000 ton vessel was the largest cruise ship to visit Killybegs to date when she made her first visit.
Commenting on the fact that the Oriana is one of four ships already confirmed for 2017, Anne Dorrian of the Killybegs Information Centre, said: "We are delighted with this news. The whole town made a great effort last year to welcome the first visits by P&O ships, Oriana and Adonia, and it is clear that all that hard work was appreciated."
She added: "It's not possible to mention everyone who contributed to the success of last season but among those who must be mentioned are the Sinbad Marine Services team, the young O'Keeney musicians who performed at the pier, the team who organised the Craft Fair in the Bay View, St Catherine's Junior Band, the Bonner Cannon School of Dancing, the Moyne Pipe Band, and the buskers who performed around the town."
Ms Dorrian also acknowledged the great work by Killybegs Community Council, cleaning, encouraging and decorating around the town, Killybegs Women's Group for their wonderful flower displays and the Men's Shed for the large wooden planters.
According to unofficial reports, every business in town – and several in Donegal Town – did well out of the P&O visits and Killybegs International Carpet Making and Fishing Centre was never so busy.
Captain Ashley Cooke, master of the "Oriana", sampled the best of the area and spent a day angling in the bay. His parting word was, "I'll be back"
One happy passenger emailed the Information Centre afterwards, "Thank you so much for the very warm welcome we received on our recent visit to Killybegs. Your kindness and consideration towards visitors is exceptional and nothing was too much trouble.
"We loved the Hidden Gems tour. We are singing your praises to all our friends and relatives. You are a real credit to your community. Once again, thank you."
Now, all that's needed is to do it all over again.
Posted: 12:55 pm September 22, 2015