By Harry Walsh

THE harsh reality of sport could not have been any clearer in Croke Park last Saturday evening.
It was almost 40 minutes after the final whistle and the Donegal and Mayo teams were starting to file out to their respective dressing rooms beneath the Hogan stand.
Just a few concrete walls divided the teams but at that moment in time they could not have been further apart.
The Mayo players were looking forward to a fifth successive All-Ireland semi-final appearance while, for Donegal, the empty feeling of defeat was shared by players, management and supporters alike.
The biggest regret coming from the players as they spoke to reporters was that Donegal didn't reach their full potential.
Yes, they were beaten by a strong, well balanced, Mayo side, but ultimately Donegal weren't able or allowed to find the rhythm that saw them beat Tyrone, Armagh, Derry and Galway en route to the quarter-final.
Kilcar's Mark McHugh was honest when admitting he felt Donegal were playing catch-up from the moment that Aidan O'Shea had netted the game's opening goal just before half-time.
And yet had the referee's whistle been blown a few seconds earlier, Donegal would have returned to the dressing room just a point down.
By the time the second half was three minutes old Donegal had shipped a second goal and the game was up.
Such are the margins between defeat and victory.
"We have to look at the two killer scores. Credit to Mayo. On they day they were the better team and we wish them the best of luck but.." McHugh started.
With the game in first half injury time, Donegal had managed to claw their way to within a point of Mayo and things were looking good.
"We broke down the middle of their defence and had a chance of goal. Their 'keeper picked it off the ground and we tapped over the free and were left thinking to ourselves that we're back to a point and we haven't even been playing that well. Then the sucker punch.
"Aidan O'Shea pushed me aside very easily and then got the ball off Neil and finished well. It was hard to take. Even then, in the dressing room, it wasn't all doom and gloom. We thought we had the measure of them. They were kicking bad wides and we felt that we just needed to get a few early second half scores, maybe even a goal, to get back into the game and anything can happen but, like a boxing match, we got hit by another punch. Lee Keegan was probably going for a point but the luck you get on days like that wasn't with us," he sighed.
There had been much talk pre-match about Donegal's punishing schedule – it was their sixth match while Mayo were playing just their third Championship game – but Mark McHugh said that that wasn't an excuse.
"Listen. If we didn't give away those two goals we could have been standing here chatting about something else. Those are the fine margins – the wee things that make such a huge difference," he said.
However, once the goals went in it was game over and a case of damage limitation.
"It was hard to keep the head down at times in the second half and, for a while, I thought we were back in 2013 when Mayo beat us (also in the quarter final) well.
"You have to give credit to Mayo. They're there every single year producing the goods and they deserve that wee bit of luck to go on and win one (All-Ireland) for themselves. The better team won on the day and we have to reflect back on it and regroup. We'll go back and play for our clubs and then look forward to another year and see what we can do to get up to Mayo's level," he said.
Posted: 5:50 pm August 11, 2015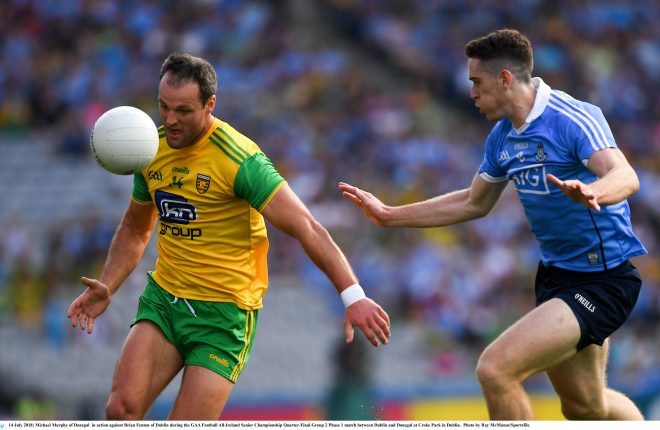 Dublin too strong in Croker.