BY HARRY WALSH
A PASTORAL centre run by a Donegal priest has spent more than $300,000 to date providing assistance to families of the Irish students killed and others directly affected by the Berkeley tragedy in California.
Six students were killed and seven injured when a fourth-floor balcony they were standing on collapsed at a 21st birthday party on June 16.
The Irish J1 Berkeley Tragedy Fund has been set up by the Irish Immigration Pastoral Center in San Francisco which is run by Portnoo native Fr Brendan McBride.
Speaking to the Donegal News this week, Fr McBride (72) said it was 'by far the worst' tragedy he had seen in his twenty years in the Bay Area, adding that a number of important lessons had been learned.
"You would have occasional tragedies, but nothing to this extent where you have six young people. It is just mind-boggling. These beautiful young kids, full of life, coming to California, the dream summer, the J-1, everyone has done it – it is heartbreaking," he said.
Three of the seven injured that night, namely Aoife Beary, Niall Murray and Hannah Waters remain in the States, but they will be allowed to return home in the coming weeks.
"It was Aoife's birthday they had all been attending that night and she suffered a brain injury, but she's doing well. Niall fell on his hands and has to undergo more surgery, but he hopes to go home on September 11. Aoife is due to go home on September 6 and we're not sure about Hannah yet, but it could be another month or so before she gets home," Fr McBride explained.
A native of Portnoo, Fr McBride was ordained in 1968. He spent some time in Coventry following his ordination before coming back to Kincasslagh and then St Eunan's Cathedral in Letterkenny and Dungloe before taking up posts in Philadelphia and New York. He returned home for four years to Glenswilly before moving to San Francisco twenty years ago.
"We run the Irish Pastoral Centre here and we deal with all needs of the Irish Community, both old and young.
"It was vitally important we were here during Berkeley because we had the contacts on the ground. When we sent out word for volunteers that first morning we had 350 within two hours. It was amazing. The response of the entire community was fantastic.
"They drove people to and from hospitals, stayed with them in hospital and did anything else that people needed. There was a great feeling of community spirit. Many people felt helpless but they still wanted to do something," he said.
Fr McBride and the immigration centre were first made aware of the tragedy by Philip Grant, Consul General to Ireland for the Western United States. There followed a week of little sleep.
"For days after the tragedy we were on the go the whole time. There was parents and friends coming and going all the time. One of the blessings was that parents came even though their children weren't involved in it and they were a great presence to have around. The kids were all distraught.
"They had lost their friends and it was nice to see parents come in as they had a great calming effect on whole scene. They came from a very close community back home and all knew one another," he said.
While life is returning to "normal", Fr McBride keeps in contact with the families at home to see how they're coping.
"They have good support, but we just like to track them to see how they are getting on," he said.
Last month, during a visit home, Fr McBride had dinner with families of three of the students killed in the balcony collapse.
"The parish priest in Foxrock is Fr Frankie Herron from Gweedore and he joined me at dinner with three of families, the Walshs, Burkes and Culligans. It was nice evening with them all who are still trying to come to terms with it and get back to some form of normality.
"I think when the students all start to go back to college again after the holidays it will be tough for them all," he said.
Hundreds of thousands of dollars have been raised following the tragedy to support the families and friends of the six dead and seven injured.
The American Ireland Fund, a philanthropic network, made a $100,000 donation to support those involved with the incident, including a large donation to the pastoral center, while the Denis O'Brien Foundation also contributed $100,000.
"We still have about $200,000 in the fund but we've made a promise to make sure we cover all their expenses while they're here," Fr McBride said.
"We have learned a lot from this whole tragedy. One of the biggest things we've learned is that anyone coming away should read the fine print of their insurance coverage.
"There was, and still is, a constant battle with insurance. Even though it says they're covered for eight, nine or ten million I doesn't necessarily work out that way as they (insurers) want to get them back home as soon as they're fit to travel basically. They want to get them away.
"For us it was an eye opener as coverage is not what you think it is on the surface," he said.
Thankfully, there are a number of world-class medical facilities in San Francisco and all the students have been getting the get possible treatment.
"They were initially covered (insurance) but they were more interested in getting doctors reports and getting them home. The facilities are all here and it was important therefore to keep them here and to get as much treatment here as possible – that was half the battle," he said.
Fr McBride added that the six students killed will be 'a beacon' for all Irish students who follow them to California on summer visas in future.
With two brothers and a sister living in Ardara, Ballyshannon and Ballybofey, Fr Brendan has family at home but he is also part of a large family Stateside.
"I suppose I'm near retirement age but we tend to go on as long as we can. I can't answer the question whether I'll retire home or stay here. We've built a big community here and I've become part of that," he said.
Over the weekend the Donegal native has been named by the Department of Foreign Affairs as one of the ten recipients of this year's 'Presidential Distinguished Service Awards'.
He is being honoured for committing "his life's work to serving the Irish community through advocacy and the provision of support services", and his leading efforts in the US's immigration reform policy.
Foreign Affairs Minister Charlie Flanagan's office also acknowledged the "central role" Fr McBride played in providing support to those involved in the accident in Berkeley earlier this summer. He travelled to the three hospitals where the survivors were treated and provided support for their devastated families and friends.
Posted: 9:53 am August 31, 2015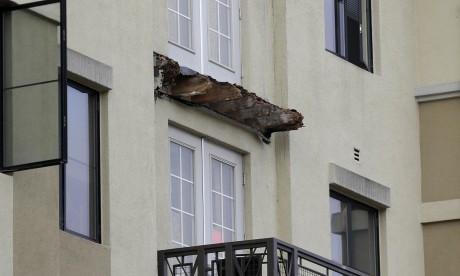 A DONEGAL student was one of those seriously injured in the fatal accident in Berkeley, California, where a fourth-floor...