THIS week I have been trying something new and quite extreme. I have decided to spend the next twelve weeks training and eating my way to a glorious six pack!
I recently spoke with Co. Down based personal trainer, Niall Ryan, who agreed to help me out by devising a food and exercise plan to keep me on track throughout. I also spoke with my main trainer, Neil Barrett, who explained that my training with him would have to be altered drastically to work in harmony with the challenge. We had been working on strength primarily whereas a more fast moving, circuit type training will be needed moving forward. As I write this I can feel pain creeping into my arms from a vigorous training session earlier but it was very enjoyable and I am already looking forward to my next session.
It may surprise you to learn that I am not doing this so I can strut around with abs of steel (although that will be a beautiful little bonus). I have written about competitors in the past and have spoken with many athletes who have all discussed the side effects that come with this type of training. It can have a detrimental effect on a person's emotions so I think if I am going to write about it I would benefit from knowing exactly how it feels to deprive myself of particular foods for a long period of time. I should also point out I will be alcohol free the entire time. This will be the hardest part for sure!
I have been told that diet is the major factor when sculpting muscle more so than exercise, surprisingly. 80% diet to 20% exercise so it stands to reason that my food plan would be a little off the wall. Allow me to walk you through a typical day;
Breakfast: One whole egg plus FIVE egg whites. 1/3 of a cup of gluten free oats and one orange.
Mid Morning Snack: One cup of low-fat yoghurt plus twenty almonds. (Yes I count out each almond every morning, what have I become!)
Lunch: 3oz of grilled chicken breast, one cup of quinoa and one cup of spinach.
Pre-Workout: One can of tuna and ½ a cup of quinoa.
Post-Workout: One scoop of whey protein powder, one bagel (gluten free alternative) plus one tbsp of jam.
Dinner: (Yes we are only getting to dinner now) 4oz tilapia (It's a fish. Who knew) Steamed asparagus/broccoli.
Before Bed: ½ a cup of cottage cheese (Yuk!) and one spoonful of good quality peanut butter.
As you can imagine I have struggled with the sheer volume of food especially breakfast. I also feel bad wasting all of the unused egg yolks so my poor Dad has been forced to make some rather dodgy scrambled eggs using the leftovers. His cholesterol will be through the roof! I am tweaking things as I go and finding out what works for me and what doesn't. I have a feeling I will want to change my breakfast routine sooner rather than later. I was once a coffee for breakfast kind of girl, to go from that to a full sit down meal is difficult.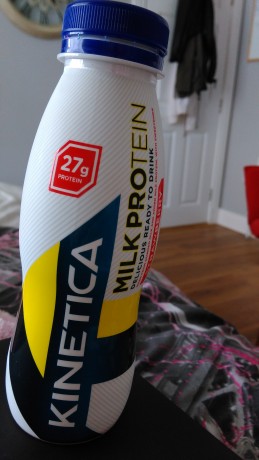 During the first three days I felt bloated and sick. The yoghurt was sour on its own and I felt I didn't enjoy any of the foods consumed in the first half of the day. I enjoyed the chicken and vegetables as I would usually eat that for dinner anyway so it didn't feel much different.
If you are going to try this yourself I must warn you, it takes up a large amount of time each day. Food preparation is key. I didn't appreciate that at first but I quickly realised its importance. Allocating enough time to actually eat the food is another point to consider. I ended up being late for work on the second day as I sat at the table eating an omelette I had no desire to eat.
What I am attempting is an experiment of sorts. It is most definitely not a long term life choice and I would not recommend you follow in my footsteps unless you have qualified professionals by your side. I am working with two personal trainers and nutritionists, I know I am in good hands but I also know the road ahead will be a rocky one.
Stay tuned…!
Posted: 4:47 pm July 23, 2015