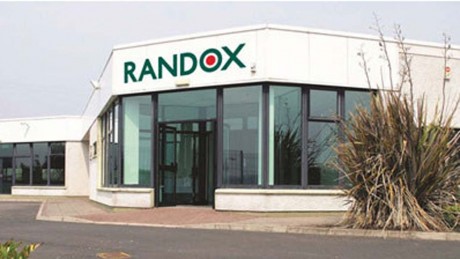 The Minister of State for Gaeltacht Affairs, Joe McHugh T.D., having attended a cabinet meeting this morning in Government Buildings, has today (7 July 2015) announced that the Government has given approval to an investment by Údarás na Gaeltachta of €5m in R&D grant assistance to be paid over a period of 5 years to Randox Teo in An Clochán Liath, Co. Donegal.
This investment will enable Randox Teo to develop its facility at An Clochán Liath as a world class R&D centre of excellence for biochip technology and diagnostic equipment as envisaged under the company's strategy entitled Dungloe 2020.
Minister McHugh said: "This decision shows the Government's commitment to consolidating employment in areas such as An Clochán Liath in order to sustain viable, rural communities and, in particular, to support the Irish language as the community language in a strong Gaeltacht area. Having regard to the Government's Action Plan for Jobs 2015, which has a particular focus on regional development, I am particularly pleased to note that Randox Teo plans to have 125 employees in An Clochán Liath by the end of 2015 and that an employment target of 450 jobs will be reached by the end of 2020.
"I would like to acknowledge and commend Randox and their management team on the company's commitment to Dungloe and the surrounding area, as well as to the Irish language. Randox is a strong successful Ulster company, based in Antrim, and the work they are doing in Donegal is a great example of positive cross border work.
"Last December, I was very pleased to announce that following discussions I had with the Minister for Public Expenditure and Reform, Brendan Howlin TD, Údarás na Gaeltachta received an additional €1 million in their capital budget for 2015. I believe this is a clear indication of this Government's continued commitment to job creation and enterprise development in the Gaeltacht."
Randox Teo was established in 2008 in An Clochán Liath. The company currently employs 85 people in An Clochán Liath and will recruit an additional 40 people by the end of 2015. Randox Teo is part of the global group, Randox Holdings Ltd, which is among the top 20 biochemical diagnostic companies in the world and is a global brand with its products being sold in over 145 countries.
Posted: 12:12 pm July 7, 2015