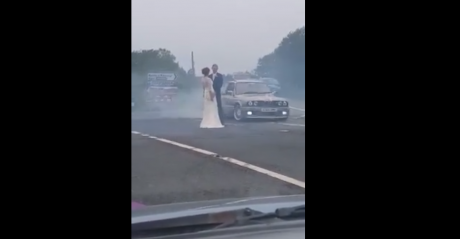 GARDAI in Milford launched investigation into an incident of 'diffing' around the main road near Gortahork last weekend after a video posted on Facebook showing a bride and groom standing on the road as people drove dangerously around them in circles with smoking tyres.
VIDEO: Some just married couples opt for fireworks – some rather releasing doves, but this bizarre incident took place at the weekend on the main road to Gortahork, just at the turn off for Magheraroarty, immediately after a couple had just got married in a nearby church.

Posted by Donegal Page on Wednesday, 3 June 2015
The road beside where the incident took place appears to have been blocked off to emerging traffic. There have been a huge number of hits since last weekend.
See Friday's print edition of the Donegal News for full coverage
Posted: 3:25 pm June 3, 2015