GAA: Ulster Senior Football Championship semi-final
By Harry Walsh
DONEGAL defender Eamon McGee cuts an imposing figure. Holding court in the tunnel area of St Tiernach's Park, the teak-tough Gaoth Dobhair man is far from happy.
His training top, with his initials E McG emblazoned in the top corner, has replaced his number 4 Donegal Creameries Donegal jersey and he's still trying to make sense of it all.
"It just didn't come today for whatever reason. It was just typical of the day that was in it. We had no energy and we were very lethargic so Rory has a lot of work to do over the next few weeks and so do we, unfortunately," he said.
"We'll go back to the grind now and get in a wee session on Tuesday before getting back to the had work on Thursday," he added.
Less than half an hour earlier Donegal had secured a place in the Ulster final for a fifth year in a row but you wouldn't think it from McGee's demeanour.
They won by two (1-09 to 0-10) but they were wasteful in front of goal, kicking a lot of wides while directing a lot of other ball aimlessly in towards the full-forward line.
"It's frustrating. We probably got a bit too much joy from it (long balls) the last day and we thought that we would get the same there today. It was very frustrating the fact that we missed a lot of chances too, relatively easy chances so it's something to be working on rather than going in to the final on the back of another easy win" he said.
Going into the semi-final on the back on wins over Tyrone and Armagh, some pundits felt that Derry wold simply provide cannon fodder for Donegal but that was never going to be the case.
"I've been cringing with some of stuff that has been written about us. We didn't buy into it and now everyone can see now that we're not the team we were made out to be during the week," he said.
"We didn't play well out there tonight. We're disappointed and we're not going to pat ourselves on the back. We've a lot of work to do. We'll sit down now and analyse the game and see where it went wrong. It's hard to put a finger on it at the minute," he said.
McGee can recall the 'dark days' when reaching Ulster finals was but a distant dream for a Donegal player but now the county is looking forward to a fifth successive final.
"There's a medal to be won and both teams will want to win it. It will be a feisty encounter but one I'll look forward to in three weeks time," he said.
Saturday also saw another clean sheet for McGee and his team-mates.
"Aye. We done our side of the bargain and we can now give out to the forwards. In fairness though it was tight going. Derry have some good lads there, like Caolan O'Boyle, Skinner (Eoin Bradley) and wee Enda Lynn and they kept us on our toes. Probably when we look back on it there will be a lot of aspects of our game – defensively – particularly the full-back line that would not have been as tight as normal," he said.
It's that self-critical analysis that has led to this crop of Donegal players now being part of the most successful, ever, Tir Chonaill side and, if McGee and his team-mates get their way the journey is far from run just yet.
Posted: 5:19 pm June 30, 2015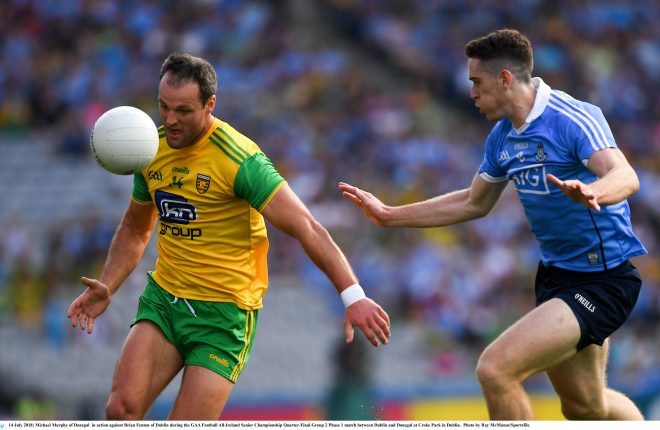 Dublin too strong in Croker.