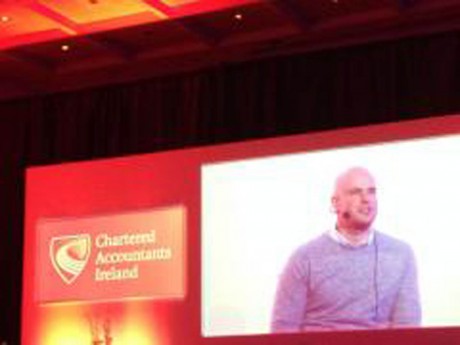 A COUPLE of weeks ago I was approached by a friend of mine, Mr. Edwin Foley who is a JCI Donegal patron and owner of Edwin Foley Chartered Accountants.
Edwin had just come back from an event in Galway and was keen to share an idea he had while down there.
Upon hearing his plans I decided I would do my best to help him turn his idea into reality. I asked Edwin to explain, in his own words what he is hoping to do.
Sean Feeny 18/6/15 Last month, I made a last minute decision to attend the 'Chartered Accountants Ireland Annual Conference' in Galway.
One of the speakers at the event, adventurer Mark Pollock, caught my attention when he spoke about 'The good old days of just being blind…'.
Mark told his story about going blind at 22 then racing to the South Pole ten years later and suffering paralysis after falling from a balcony in 2010 just two weeks before his wedding.
He shared his thoughts on coming to terms with his situation and how he overcame enormous setbacks. He then asked myself and the other 400 people in the room to close our eyes for thirty seconds as he concluded with the following words of advice: 'Be a realist, focus on the possibilities not the problems, reach out and collaborate'.
As I sat there with my eyes closed I realised how much I take for granted on a daily basis. I had the ability to reopen my eyes and walk with ease out of that room. I am one of the lucky ones.
I returned to Donegal with Mark's words firmly etched on my mind . I went online where I read about the Mark Pollock Trust and their mission to find a worldwide cure for spinal cord injuries.
I also discovered details of a 5k event called 'Run in the Dark' which is due to be held on November 11, 2015 at various locations world-wide.
I decided I would 'reach out and collaborate' by organising a pop-up 'Run in the Dark' event in Letterkenny. I have asked some friends and business associates whether they would be interested and the response so far has been very positive. One of those friends was Nikki Bradley who immediately said she would take part.
Registration for the pop-up event will be available online from the 8th of August onwards, but in the meantime, we want to raise awareness of the pop-up event and seek expressions of interest from as many people as possible who would also like to 'reach out and collaborate'.
Edwin has asked that I help him gauge public interest in this type of event and I would ask that you get in touch if this is something you would like to be involved with. If you would like more details please visit http://www.edwinfoley.ie/Run-in-the-Dark-2015
TIME FOR A NEW CHALLENGE
Last week I took to social media to encourage some friends to suggest a new challenge for me. I think now is a good time to push myself again and when climber and adventurer, Pat McDermott suggested an abseil off Fanad Lighthouse I thought 'why not!'
The idea of sailing majestically down a lighthouse is a pleasant one however the reality may differ slightly. When I mentioned it to my coach Neil during training he laughed saying he hoped it wouldn't be too windy as I could end up resembling one of those tennis balls on string that we all played with in the 90's! I have discussed this idea (the abseiling, not the 90's tennis game) with the legend that is Iain Miller and we have decided to trial it first. Some of you may remember a previous challenge that involved rock climbing/abseiling with Iain. My leg was too weak to support me and I had to stop half way. I am hoping that this time I will succeed as I am stronger now and should be able to support myself better. I am meeting Iain this week so wish me luck!

Nikki Bradley is the founder of Fighting Fit For Ewing's, a campaign to promote awareness of Ewing's Sarcoma. Nikki is sponsored by All Sports in Donegal Town. Support her campaign by giving 'Fighting Fit For Ewing's' a LIKE on Facebook or follow her on Twitter @nikkibradley59
Posted: 4:00 pm June 25, 2015