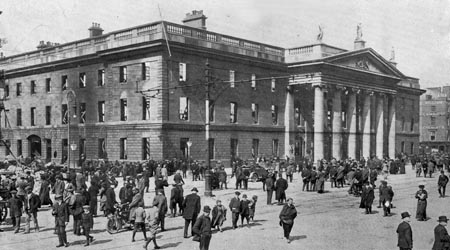 A motion calling for the erection of a monument in Lifford in memory of the participants of the 1916 Easter Rising "and all those who gave their lives for Irish freedom" was defeated at Monday's reconvened meeting of Donegal Co. Council.
Following a noisy debate, councillors voted 12-8 against the motion which was tabled by Sinn Fein Cllr. Jack Murray.
Proposing the motion, Cllr. Murray said that as County House was the centre of democracy in Donegal it would be a very appropriate place to erect the monument.
Cllr. Gerry McMonagle (SF), the Mayor of Letterkenny, seconded the proposal.
However, seeking clarity on the motion, Cllr. Patrick McGowan (FF) noted that he had brought in a previous motion in November regarding ways of marking the centenary of the 1916 Easter Rising.
He pointed out that there is a committee that has been set up by the council to look at how to commemorate 1916.
Cllr. Nicholas Crossan (Ind) said he could not support the wording, notably "all those who gave their lives for Irish freedom" while Cllr. Bernard McGuinness (FG) also sought clarification.
"Do those who gave their life for Irish Freedom include the Omagh bombers, those who shot my cousin or the people who killed Jean McConville," he said.
"I'm happy to support anything that commemorates 1916 only," he added.
Michael Heaney, Director of Community, Culture and Planning Services, said that the Council had been directed from a national level to take a lead in this. He explained that a steering group has been established, and a number of options have been discussed.
He added that the most important of all the commemorations during this decade of commemorations concerns 1916 and the Council hopes to commemorate "in the most appropriate manner possible."
Already there have been suggestions from municipal council areas, including Letterkenny where there has been a call for a Garden of Remembrance.
"We are very happy to work with all stakeholders to advance projects and to finalise a programme of events to commemorate the Easter 1916 Rising," he added.
In  response, Cllr. Jack Murray said he could not imagine any country in the world that would not want to commemorate its history.
Posted: 2:11 pm June 15, 2015