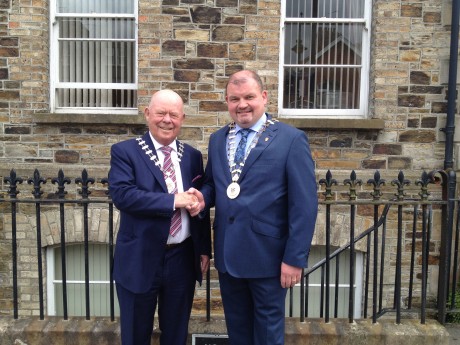 BY C.J.MCGINLEY
CLLR Ciaran Brogan is the new Mayor of Donegal. The Letterkenny based councillor was elected unopposed at Monday's Annual General Meeting in Lifford.
He succeeds Cllr John Campbell. While he has been Mayor of Letterkenny on two occasions this is the first time Cllr Brogan from Fianna Fail has been the county's first citizen.
Speaking after his election Cllr Brogan (43) said he had been honoured and privileged to have such a 'loyal and dedicated team'.
"We were on a crest of a wave when I was first elected to Letterkenny Town Council but the last few years have been challenging but I want to thank my team who have been with me on the journey,"
"I respect every member of this council, regardless of their party affiliation. It is a huge honour for me to be elected Cathaoirleach. I want to pay tribute to those who sat down a year ago and agreed an all inclusive council,"
"I want us to be positive about Donegal. There is areas we need to be stronger but we need to send out a strong message that Donegal is open for business. We have a great county and a great people,"
"It is a special day for the team and my family and I'm honoured to have my parents here with me today.The whole area of disabilities is something I want to prioritise and to make the council more accessible for people with disabilities," Cllr Brogan said.
"We are a resilient people and while we are doing our business we need more economic development and tourism for Donegal. We can offer a better quality life than anywhere in the country.
"We need to do what we can to create an atmosphere here where our young emigrants can come home again," he added.
Cllr Brogan, was proposed by Cllr Seamus O'Domhnaill who said Cllr Brogan was synonymous with council business in Donegal.
"He was first elected to Letterkenny Town Council in 1999 and Donegal County Council in 2004," he said.
Posted: 4:47 pm June 15, 2015