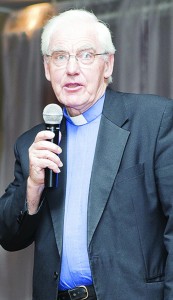 COLUMBA Community founder Fr Neal Carlin this week highlighted how recently the government published its impressive figures on economic growth and the increased productivity and improved exports. This, you might imagine, would be good news for the poor as well as the rich in Ireland. But is it?
The facts are that the rich, government taxation accepted, become richer as they seem to be free to give themselves annual bonuses and boardroom salaries that leave them in an economic world most of us just read about.
The claim by the charity Oxfam that one per cent of the world's population owns almost half of the world's total wealth is not surprising when one considers the system we have grown up with in the western world.
So what about the concept of equality? I would suggest that our politicians in the Republic, tripping over each other to manifest how open minded they are on gay rights issues, would be better engaged in radical efforts to get some real equality for the poor in economic matters. The apparently popular politically correct thing is to say "Yes". In avoiding being labelled "homophobic" however we are fast becoming " hetrophobic" and in danger of discriminating against straight children in years ahead.
Government and those who aspire to such have proven to be simplistic in not considering the outcomes and dire consequences of their decisions in the past. Are they in their group think leading the people astray again?
The politicians got it so wrong during the bubble time we refer to as the Celtic Tiger era. Again it will take them a few years to wake up to the dire consequences their present clause inserted into the constitution will bring to the notion of marriage and the family, if the motion is passed by a yes vote. Are we to be the only country in Europe or the world to enshrine such a clause on gay marriage into our countries constitution? What existed in most societies for thousands of years as the central and fundamental natural community- the family of man, woman and children now is destined to become something else. What a major change that would be. This is I suppose not surprising under the leadership of Edna Kenny who stupidly attempted to cut off diplomatic relations with the Vatican in the past.
But let us return to economics. Archbishop of York, John Sentamu recently published an essay entitled "On Rock or Sand?" The question posed by the essay is about the sustainability of a grossly unequal society. He says "Society has become a marked society where the poor are being left behind in an unceasing drive to increase the nations Domestic Product". Hence the economic growth does not automatically deliver good society. If its fruits are too unevenly distributed it could even make for a worse society.
While the above refers to British society it certainly applies also to us. People become ill at ease and the poor sense what is happening even if they do not get to express their anger in an analyses or on the media. Their frustration with a system loaded against them comes out in such things as water charge protests and other areas of displacement activity when they are really annoyed with the injustice and unfairness in general. They are very aware for example that no bankers have being asked to return their very large bonuses and extra money made when they forced millions of euros on unsuspecting borrowing customers during the building bubble boom. Having personally witnessed a persistent attempt by a bank manager and his assistant to give a client two hundred thousand euros instead of the one hundred thousand requested for building a new house, I can understand the anger now in those who are being forced to repay big sums while the bank management continue merrily on with their ill made gains and good wages.
So what is the answer, now that atheistic communism as we have known it has also apparently failed? Surely we need to be honest and ask ourselves do we not need a new heart, a new attitude as well as efforts to obtain fairness from government bodies.
Do we need new leadership or a new personal attitude?
The answer to this question is surely a moral one. Yes, we require a return to fairness and equality, while respecting differences. Essentially we require a generosity of spirit and a spirit of sharing such as you can read about in the Acts of the Apostles which was preceded by a spiritual awakening. The experience of those early Christians led them to form a new society where "they held all things in common". Often they sold land and property and shared with those in need. It required a mental and emotional paradigm shift in attitude not unlike we sometimes get when a chronic alcoholic get contented sobriety. He or she will go through hell and endure much to help a fellow sufferer to find a new life. But they do this quietly and in fellowships up and down the country and all over the world.
They seem to have the fervour we associate with charitable religious orders and committed Christians of any denomination who want to help the third world with medicine, education, faith and freedom to help them begin to care for themselves and become economically self sustaining. This generosity is born of a spiritual experience when we become aware of God's love for us in Christ and that we are not meant to live in Greed but in Giving.
I suggest this type of community is available to us today if we seek first the Way- the kingdom of God and experience the real presence of Jesus Christ. It requires radical thinking and radical living. We may or may not get the help of politicians in forming such communities of care with reasonable wealth and happiness but we can build such if we have faith. Our small but effective Columba Community in Derry and Donegal is proof that all things are possible if we have hope and vision.
Fr Neal Carlin
Columba Community of Reconciliation
Posted: 5:31 pm May 13, 2015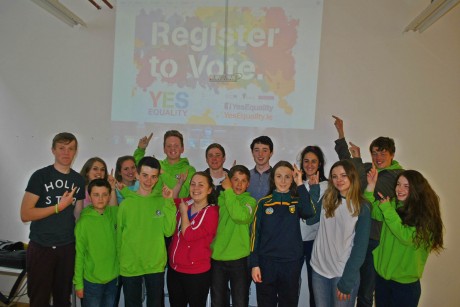 DONEGAL Youth Council is calling for people in the county to vote YES in the upcoming Marriage Referendum on...