I AM thoroughly enjoying training, but finding myself feeling quite stiff afterwards. My right-hand side is especially tight and first thing in the morning or last thing at night I find I am sore because of it.
After rave reviews from Donegal News journalist, Seán Feeny, I decided to give fitness yoga a try to see if it would ease my discomfort. 
Fitness yoga is a class held in Fithub Letterkenny where the emphasis is on basic postures to help with mobility and to encourage the bodies recovery from training or day-to-day stresses. The focus is on breathing as the body will reach its full range of movement easily if it is in a relaxed state. It is ideal for those who have endured serious injury in the past.
I spoke with fourth degree Brazilian Jiu-Jitsu purple belt Paul Gallagher (Rilion Gracie Ireland) who runs the yoga class and he assured me I would be more than able to participate. So off I went last Tuesday evening with my friend Emma McConnell in tow.
We arrived in good time and made a bee line for the mats at the back of the class (old habits die hard). Unluckily for me I misjudged which side of the room was deemed the 'back of the class' and inadvertently ended up at the front of the class!
It was too late to move so I was trapped at the front. Emma was directly behind me and I knew she would rely on me to guide her through the movements during the times when she couldn't see Paul. It reminded me of Mass when you don't know when to stand or kneel so you copy the person in front of you only to realise they don't have a clue either!
We started with some breathing exercises followed by some gentle movements to ease us in to the class. Paul talked us through each movement and encouraged us to only push ourselves to where we felt comfortable.
We then moved on to some standing upper body stretches which led in to leg movements on the floor. There were certain stretches that I couldn't attempt but we adapted the movement to suit me. I began to feel more and more relaxed throughout the class and felt the muscles in my body ease. By the end I stood taller and the tightness in my legs was minimal.
Emma had mentioned beforehand how she had woken up with a severe pain in her chest bone, feeling almost bruised. She was surprised afterwards to notice that the pain had disappeared completely. 
Paul uses movements that open everything out, this coupled with deep breathing help relax and ease the stresses on the body. The relief is instantaneous and long lasting.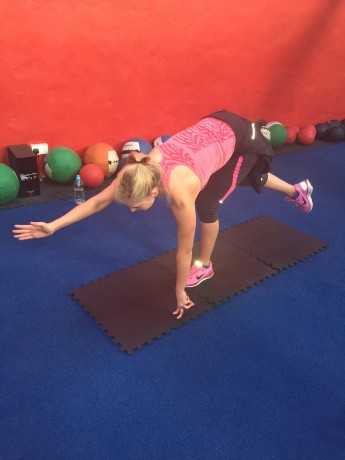 If you are feeling stressed or tight from exercise or injury I would recommend you have a chat with Paul as he has a great understanding of the body.
He has been injured himself through training and actually took up yoga to ease his own pain so he knows first hand what it feels like to be stiff and sore.
Paul runs fitness yoga on Tuesday and Thursday evenings at 6.30pm. They are also in the process of building a 'hot yoga' studio which I cannot WAIT to try! I would like to thank Paul for allowing me to participate in his class. You can book fitness yoga at www.fithubletterkenny.com. 
Nikki Bradley is the founder of Fighting Fit For Ewing's, a campaign to promote awareness of Ewing's Sarcoma. Nikki is sponsored by All Sports in Donegal Town. Support her campaign by giving 'Fighting Fit For Ewing's' a LIKE on Facebook or follow her on Twitter @nikkibradley59
Posted: 2:53 pm May 8, 2015