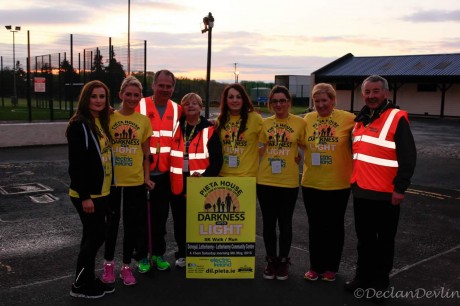 THE Darkness Into Light Letterkenny committee worked tirelessly for months in preparation for May 9 and without them and the many volunteers who offered their time, #DIL2015 would not have happened.
Donegal Town and Maghery did an amazing job also but as a fellow DIL Letterkenny committee member I asked my team mates to send me a couple of lines describing their experience.
Danny Devlin, Co-ordinator of Darkness Into Light
My first introduction to fund-raising in Aid of Pieta House was on September 4, 2014 when I joined a friend, who had recently lost his brother to suicide, on a fund-raising climb of Mount Errigal. 
Having completed the event, I then met Tom Mc Evoy, a representative of Pieta House.  From our conversation I learned of the great services that Pieta provides to people on a daily basis.
Last year alone, over 5,000 people came through the doors of Pieta suffering from suicidal ideation or engaging in self-harm. 
Shortly after meeting Tom, a group of us came together with a focus of getting a Pieta House set up in Donegal.
At a public meeting in October last year this became a reality when Pieta gave a commitment to set up here in the county.
From that I was asked by Pieta to co-ordinate Darkness into Light in Letterkenny as the county was introducing another two locations in Donegal Town and Maghery.  Forming the committee was relatively easy as those involved last year in Letterkenny did not hesitate to offer their assistance. A few new people were also introduced to replace those who had now got involved in the new Donegal Town committee. 
Our aim for the 2015 event was to build on the success of the previous year where just over 1000 took part. In the early morning May 9 all our plans had come together. It was gratifying to feel the positivity from the participants as they arrived at the Community Centre.
We knew from registration the previous evening that entries for the events had significantly increased bearing in mind that another two locations in Donegal were also running events. It was heart-warming to hear the feedback from people afterwards.
The candles, the HOPE sign, the choir, the support from the public, the dawn breaking as they finished and later in the day, the sharing of photographs on social media.
I spoke to one person in particular that morning who admitted they had attempted to take their own life on more than one occasion.
They were almost in tears as they described how the whole event had lifted their spirit and they could see the light beginning to shine again. To hear this from one person was enough for me to know that the whole event was worth it.
Stephen Shevlin, Route Co-ordinator for Darkness Into Light Letterkenny
The atmosphere before and after the event in and around the Community Centre was something that I really can't finds words for as people openly shared experiences and fears that they had and also people talked of their loved ones who had died by suicide.
People that have lost loved ones to suicide resent the fact that those who should know better refer to it as having 'committed' suicide. 
Most people that have talked about their own experience are delighted that at last suicide is discussed more openly and not swept under the carpet.
DIL was a wonderful event and a lot of work went in to organising it. I was delighted with the way the town park looked and it was commented on by so many people.
I would like to thank Marian, Rosemary and the Scouts led by Catherine for their effort. The band/choir this year made a big impression also.
I was on the track for the start and as World Irish Dancing Champion Gavin Shevlin and his sister Niamh counted down to 'go' I was not aware for another 20 minutes that they both ran the 5k and was surprised to see Gavin coming in, in 3rd or 4th place. Well done to all and everybody that participated.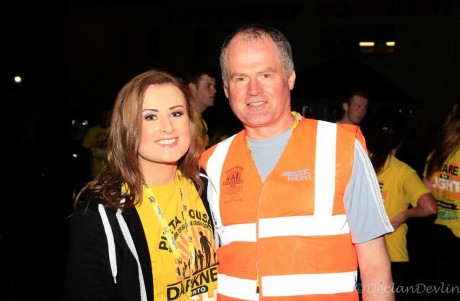 Christina Murray McEleney, Committee Member
"As a lecturer and course writer in the field of alcohol and other drugs, the topic of mental health, self harm and suicide are an integral part of this area therefore I have a keen interest. I've done suicide assist course and I have studied the area of suicide from my sociological background.
Firstly, it was a pleasure to be involved with the Letterkenny team this year, I feel that whilst there was a lot to get organised the experience of the members from last year was brilliant to inform the process this year.
I can only commend all the members of the committee giving their time and attention to this great event, I understand committees and volunteerism from a long experience of being involved in them from national boards to local committees for over 20 years. 
I feel very humbled to be part of the event and to have had the opportunity to meet the other members and just experience the goodwill and kindness from all of the helpers, volunteers and sponsors and businesses, their kindness really impressed me.
This was a beautiful event to be part of, I really feel it was so supportive to those that may be experiencing difficulty presently and those that have experience self harm or suicide in their families. I think that it's just amazing when a huge community get together and walk together in close connection to each other.
Life can be hard for some , but when people come out to support this cause in such numbers and walk shoulder to shoulder in support, then there really is a dawn after the dark! My main motivation for getting involved is to get a Pieta House here in Donegal!

Anna Shevlin, Committee Member
Being part of the Darkness into Light committee this year was a brand new experience for me. I had never been involved in organising an event to that extent before but I enjoyed every minute of it.
There was a great build up and everyone co-operated very well which was reflected on the very successful night of the event. I feel that positive mental health is extremely important and I'm thankful to have had the opportunity to get involved with Pieta House.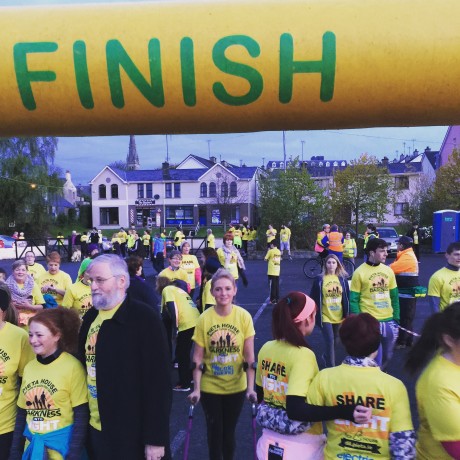 Nikki Bradley is the founder of Fighting Fit For Ewing's, a campaign to promote awareness of Ewing's Sarcoma. Nikki is sponsored by All Sports in Donegal Town. Support her campaign by giving 'Fighting Fit For Ewing's' a LIKE on Facebook or follow her on Twitter @nikkibradley59
Posted: 3:51 pm May 28, 2015