BY CHRIS MCNULTY
AROUND this time last year, Gareth Harkin was beginning to wonder about his decision to return to Finn Harps.
After leaving the club at the end of the 2011 season, Harkin didn't kick a ball in anger until he took up an invite from Harps manager Ollie Horgan to attend pre-season. He spent two years in Australia, working for a forestry company and doing a stint as a carpet fitter.  Football became an afterthought.
He knew Horgan from his days at Fanad United. Horgan gave a 17-year-old Harkin his head in the Ulster Senior League and the midfielder had spells at Derry City, Limavady United and Coleraine before joining James Gallagher's Harps for the 2011 campaign.
The time away from the game had blunted his edge and it took him until the summer to find his form.
"The first couple of months were difficult," he says.
"I was training away but just couldn't get a run at all. My calf seized up at one stage and I felt like I was just miles behind. It took about four months before I was anywhere near myself again.
"People were saying to me that maybe I should have signed for someone in the Ulster Senior League and to get playing a bit of football. I've always wanted to play at the highest level I can and I know there are times in your career where you'll have to sit back and watch. I just put the head down and was so determined to get back in playing again.
"It was mentally tough, but it was great for me because it made me stronger. The first game I got in was against Waterford and I didn't really look back after that. The adrenaline was pumping for that night. I waited so long and I was just delighted to get the chance.
"After the break, I got good confidence. It was great, first of all, just to get the run out. Even lasting the game did me the world of good. That game drove me on."
Tonight, Harps go in search of a win over UCD that would put them nine points clear of the Students, the third placed team in the division. Harps are now unbeaten in eleven games and a win against UCD would represent the club's best-ever start to a season.
Harkin says: "It's a huge game for us. UCD are really in form at the minute. They pummelled Wexford 4-1 at the weekend.
"This is something new for a lot of us. The thing about it will be the first defeat and how we react to that. Hopefully we can keep up the momentum. Putting more distance between ourselves and UCD would be huge for us.
"Our home form last year wasn't good and we've addressed that this year. UCD will definitely be our biggest test though.
"We've seen in every game so far that teams are getting better. We've noticed an improvement in every team from the first round of games. We drew 2-2 down in UCD and they were the best team we've played so far.
"We're on a good run ourselves and are scoring plenty of goals. We're creating more chances this year. The squad is stronger than it was. When you've the likes of Kevin McHugh and Tony McNamee coming in as subs you know you've a strong panel of players. It gives us a big lift because you know that if you're not going well that someone capable will take your spot.
"We've got good strength in depth for every position now. You look at someone like Packie Mailey who hasn't been available yet. It's made for a great buzz in training and we really enjoy the work we're doing."
Horgan has assembled one of the most professional backroom teams that has ever been at Finn Park, including former manager James Gallagher and fitness coach Michael Black.
Harkin says: "We train with Michael every Monday night and it's brilliant. You really feel on a high every night in training. Every night we meet up you can see the focus is on the next game.
"Ollie does a great job – there isn't one club or player in the country that he doesn't know about. Going into games you know exactly what we're up against. That's a huge help. Ollie keeps us level headed and grounded. We'll not be getting carried away anyway. The focus is always just on the next game, not two or three games down the line.
"Ollie has a great backroom team there. I've been at a lot of clubs and this set up at Finn Harps is as professional as any."
It's a fair statement from a man who was on the fringes of Derry City's squad in 2006 when, under Stephen Kenny's management, Derry reached the first round proper of the Europa League. Having beaten IFK Göteborg and Gretna, Derry were paired with French giants Paris Saint-Germain. After a scoreless opening leg at the Brandywell, Derry gallantly fell 2-0 in the return leg in Paris.
"I was about the squad for those games and it was an unreal buzz," Harkin says.
"It's amazing to play in big games and we've seen how the people will come out to support Harps if the team is going well. It's great as players when the crowd is out getting behind you – they really drove us over the line against Waterford two weeks ago. There are times when the going gets tough and the support helps you out then.
"The next few games are massive. You can feel the buzz about the place and the club has needed it. It's been great walking around town and hearing people talk positively about Finn Harps again.
"It would be great if we could keep up the good run now and kick on a bit more. The club needs to get back into the Premier Division again. We can't look too far ahead though – this week, it's just all about UCD and trying to pick up a few more points."
Posted: 1:00 pm May 22, 2015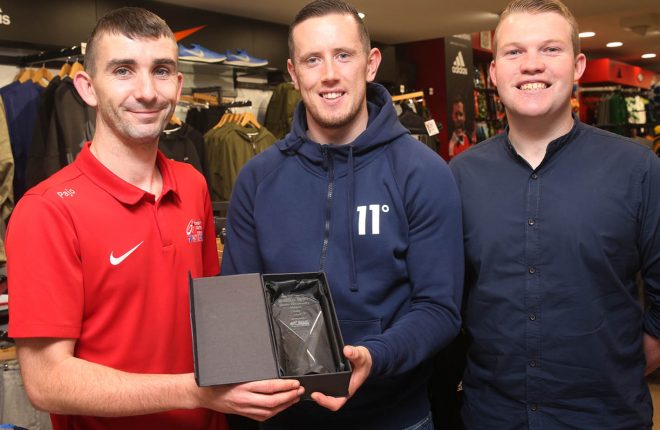 Gallagher was awarded the Donegal News Sports Personality of the Month award for July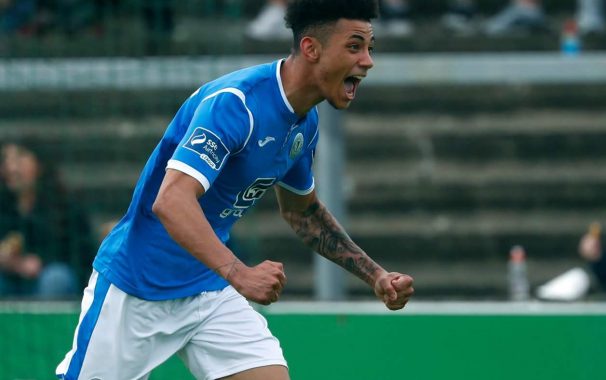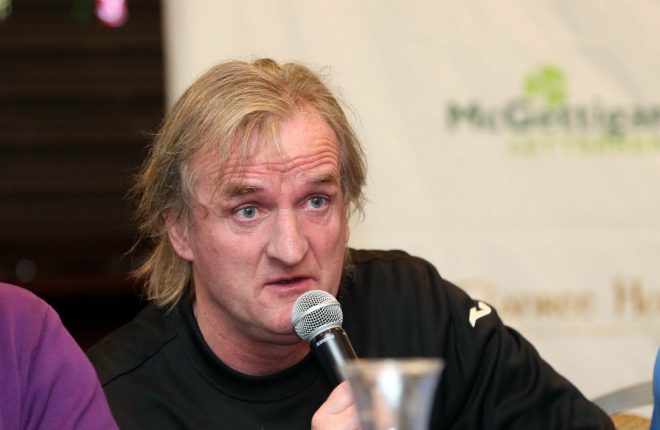 FINN Harps manager Ollie Horgan is wary of Galway United as they make their way to Ballybofey for a...