John Mc Colgan, a well-known financial adviser, originally from Buncrana, John based at 57 Port Road, Letterkenny, began his career with New Ireland Assurance in May 1985.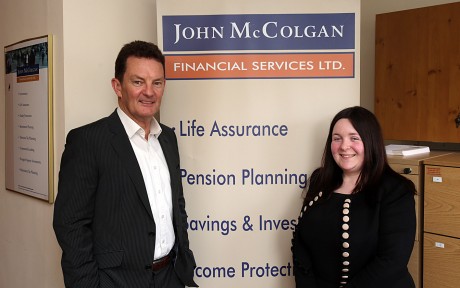 In 1991, he founded his own brokerage, which was incorporated in 2004 as John McColgan Financial Services Ltd. Over the years, John has developed an impressive reputation locally for delivering excellent independent advice, with an emphasis on quality customer care, reliability, and confidentiality.
John has succeeded through good economic times and bad by building lasting relationships with his clients.
John's clients range from young people, employees, company directors and business owners to older people enjoying a secure retirement.
In recent years John McColgan Financial Services have been busy advising people who had taken out financial products with banks and who requested a second opinion.
John prides himself on taking the time to know and understand his clients' needs so that he can help them protect themselves and their families, grow their money through solid investments, and save for retirement in a tax-efficient way.
One of John's strengths is cutting through the complicated jargon surrounding insurance, savings, investments and pensions, and explaining the maze of rules and regulations, so that his clients have a clear understanding of where they stand financially and how they can achieve their life goals.
John and Shona would like to thank all of their customers' past and present for their continued support.
John invites you to contact 074 9124366 to avail of a free second opinion on your life cover, savings and investments and pensions.
Posted: 12:35 pm May 22, 2015