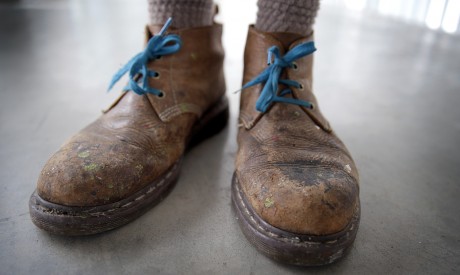 An artists life and work protrayed by Michael Parkinson's Doc Marten work boots at the launch of the Creative Donegal strategy at the RCC Letterkenny on Monday. Picture: Declan Doherty
BY C.J.MCGINLEY
DEVELOPING the strong edge for creative entrepreneurship in Donegal and stimulating demand for the services and products is at the heart of a new action plan for the sector launched today (Monday).
A three-year plan to create the right conditions for creative entrepreneurship will be key to harnessing existing the plethora of different creative arts businesses' in Donegal. There are over 400 creative businesses' operating across Donegal.
The new Strategic Plan hopes to develop this further by increasing the profile and business skills, inspiring new creative ideas through cross sector collaboration and contributing to the sustainability of Donegal's cultural heritage as a resiliant and creative place.
Sectors involved include crafts, textiles-fashions, food production, ceramics, art, design, music and tv production and digital media.
Posted: 3:25 pm May 18, 2015