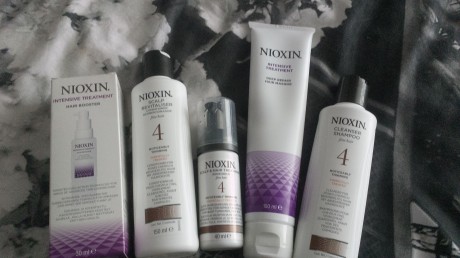 WHILE getting my hair done at Patrick Gildea Hairdressing recently I mentioned how weak it had become and they suggested I start using Nioxin System 4 which is a scalp and hair treatment pack for fine, chemically treated hair.
Along with this I was instructed to treat my hair once or twice a week with the Nioxin Deep Repair Hair Masque and lastly I have been using the Nioxin Hair Booster for an added, well, boost. 
The reason my hair remains so brittle and weak is largely due to the fact that I have had chemotherapy.
Anyone who has experienced the same will know that the hair that grows back is not as strong as what was there before.
I always thought it would settle over time (I have been chemo free for twelve years) but it never returned to its former glory. It is not just my hair that never grew back the same, my eyebrows and eyelashes are also quite faint, but let's tackle one problem at a time shall we?
I encourage you to read on if you are experiencing hair breakage due to illness or perhaps lifestyle, if you feel you need something a little stronger than the generic cosmetic products. 
I will briefly explain each product and how useful I found them.
 
Nioxin System Kit 4
This kit contains:
• The NIOXIN System 4 Cleanser Shampoo for Fine, Noticeably Thinning, Chemically Treated Hair (150ml)
• The NIOXIN System 4 Scalp Revitaliser Conditioner for Fine, Noticeably Thinning, Chemically Treated Hair (150ml)
• The NIOXIN System 4 Scalp and Hair Treatment with Sunscreen for Fine, Noticeably Thinning, Chemically Treated Hair (40ml):
Its Purpose
"To revitalise and volumise limp, thinning hair. Dedicated to delivering fuller looking hair while refreshing the scalp and providing moisture balance, the NIOXIN Hair System Kit 4 for Fine, Noticeably Thinning, Chemically Treated Hair is a unique system of complementary products that work in unison to achieve resilient, denser looking hair and a refreshed scalp." 
The Verdict
I am on week three of my trial with these products and I can honestly say they are working. I am not going to rave about how life changing they are or how transformed my hair is because I want this to be an honest review. I had my first taster of all five products while getting my hair done in Patrick Gildea's so I had an idea of what to expect.
The first thing I noticed was how clean my hair felt after using the shampoo and conditioner. They are designed to remove the residue and pollution that builds up in the hair throughout the day and honestly there was a notable difference afterwards.
My hair felt light without feeling flyaway, this is usually a difficult task to achieve. Normally when I wash my hair it feels good the first day but a bit lifeless on day two.
With these products my hair felt newly washed on day two as well which was a nice little bonus. The scalp and hair leave-in treatment is a lightweight foam that I have been applying to my hairline as frequently as I can.
I have a lot of broken hair along the front of my hairline which I target with the foam. I didn't notice much of a difference at the end of week one but have seen an improvement since. 
Nioxin Hair Booster 
Its Purpose:
Nioxin Follicle Booster is an intensive specialised leave-in scalp treatment for anyone experiencing a low-density hairline and areas of excessively thin-looking hair
The Verdict
I have enjoyed using this product as I feel it is doing good work on my hair follicles. Although the packaging states to apply morning and night I have been using it at night mainly.
It blends well on wet hair and I prefer using it after a shower as opposed to applying to dry hair. This along with the leave in treatment will work wonders over time I imagine.
The broken hair at the front of my head should strengthen well using this. I am looking forward to comparing my before and after photos. I haven't included these photos as I want to wait a few more weeks to let the products work their magic.
 
Nioxin Deep Repair Hair Masque
Its Purpose
Perfect for dry, damaged or colour-treated hair, the NIOXIN Intensive Treatment Deep Repair Hair Masque has a rich yet lightweight formula that will provide your tresses with intensive nourishment, without weighing them down. Designed to strengthen the hair shaft and reduce the occurrence of breakage, this smoothing masque will also improve the overall condition your hair to leave it feeling soft, strong and manageable
The Verdict
This is easily my favourite of the five products. I like fast results and you certainly get that with this treatment.
I noticed a difference in how my hair felt before I had even stepped out of the shower! My hair felt thicker and super soft and remained this way until the next wash. I would recommend using it twice a week for best results.
My hair is extremely knotty and I would normally use an oil before brushing it however I stopped using the oil over the past few weeks to ensure I get the full experience of these products and I must admit my hair is missing it a little.
In saying that my hair may differ to yours so I would recommend you try these products for yourself and see what works for you.
Nioxin have a huge range of both treatment and cosmetic products so you are bound to find a collection that best suits your hair type.
If you would like to book a free consultation you can speak with one of the team at Patrick Gildea Hairdressing on (074) 91 25476 or visit facebook.com/patrickgildeahairdressing

Nikki Bradley is the founder of Fighting Fit For Ewing's, a campaign to promote awareness of Ewing's Sarcoma. Nikki is sponsored by All Sports in Donegal Town. Support her campaign by giving 'Fighting Fit For Ewing's' a LIKE on Facebook or follow her on Twitter @nikkibradley59
Posted: 12:25 pm April 23, 2015