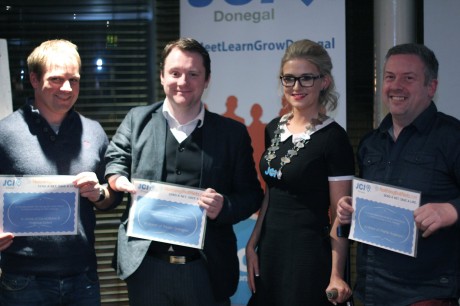 AS THE night grew closer my nerves grew with it. I had been feeling waves of fear wash over me in the weeks leading up to it but I went through with it and didn't chicken out even though I really wanted to!
I am of course referring to our Junior Chamber Ireland (Donegal branch) event that took place on Saturday, March 28, in Gallagher's Hotel Letterkenny. 
Four speakers took to the stage throughout the evening starting with local celebrity chef Martin Anderson. Martin was a great choice to open the evening as he has the ability to warm up the crowd with his humour.
His story was both moving and thought provoking. Comedian Pauric Gallagher and adventurer David Burns also took to the stage along with myself. Pauric spoke of his comedic journey which started out with him being quite shy and eventually resulted in him performing as a supporting act for Andrew Maxwell. 
Adventurer David Burns is one half of the duo behind The Race. This gruelling 24 hour endurance race took place in Donegal at the beginning of March and was organised by David and fellow adventurer Maghnus Collins.
David's gripping talk was filled with stories from their many adventures one of which involved a 14,000km trek from Istanbul to Shanghai.
You may remember this story from one of my articles a few weeks ago when I interviewed my friend Diarmuid who participated in The Race. Since writing that story I was keen to meet David as his passion for life and extreme adventure interested me greatly. 
My own talk was a spoken version of what I write in my column. I discussed my illness and my ongoing battle with my hip. I also spoke about my future plans for Fighting Fit For Ewing's.
I began writing  a book early last year, well if the truth be told I first started it about six years ago but it went untouched for many years. Last year I started writing again and I thought my talk might be a nice time to get feedback on my work so I conducted the talk in a book reading sort of way.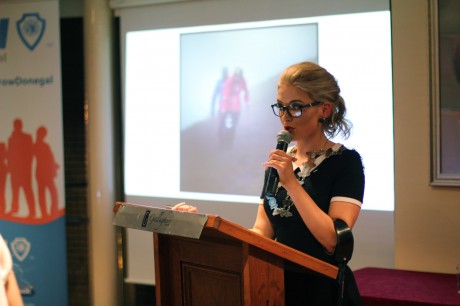 It allowed me to go in to more detail but that had it's own drawbacks. I had originally planned to speak for approximately twenty minutes.
Forty minutes later I finally left the stage feeling dazed and a little hoarse. They say a good speaker can time themselves to a tee. I think I may need a little work in that area! 
The general atmosphere throughout the evening was a positive one and I hope we have the same success when we run the event again next year. If you would like to book any of the featured speakers for your own event please get in touch.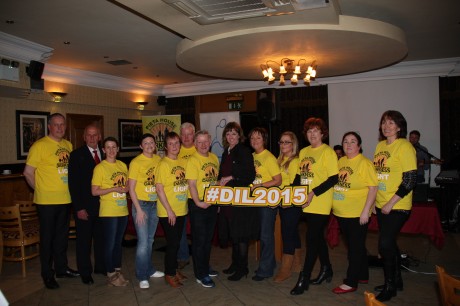 Darkness Into Light Launch
Darkness into Light is another topic I have mentioned in previous articles. It is something that has become very important to me and I was excited to attend the official launch last Monday, March 30, in Donegal Town.
Due to the success of last year's event, Pieta House decided to hold three separate events in Donegal this year. Letterkenny, Donegal Town and Maghery were the chosen locations and all three came together for the well attended launch.
Over 80 people packed themselves into the Eske Room in The Abbey Hotel where Pieta House founder, Joan Freeman thanked Donegal for their continued support.
I remember sitting in that exact room almost eighteen months ago at the first meeting for Darkness Into Light. Back then many of us, myself included didn't know much about DIL except for the fact that it was a fundraiser for Pieta House.
It's crazy to think how well the county has done with this project in such a short space of time. Over €22,000 was raised in year one. I wonder what 2015 will bring! 
A pre-registration day has been organised for April 18 where you can pay upfront and collect your t-shirt. This should help alleviate crowds on the morning of the walk. Keep an eye on Facebook for updates.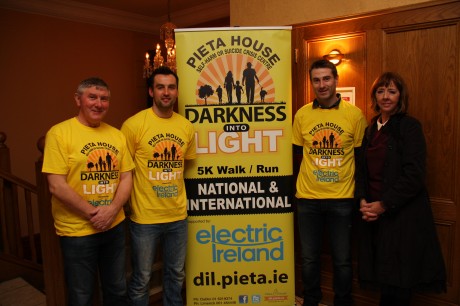 And Finally..
I wanted to share this little piece of fun with you before I go. While training in Fithub last week I managed to do a handstand!
Now I could leave it there and have you wonder how someone who can't even walk managed to turn themselves upside down but as I am too much of a nice person to leave you in suspense I will explain.
My trainer Neil had mentioned how he wanted to try various new things to test my abilities and a handstand just happened to be one of them.
As I approached the wall I felt a little unsure as to whether I could do it but with Neil's help I easily managed it. My upper body is so much stronger than it was before so it turned out to be surprisingly easy to support myself.
When I was a child I spent most of my day upside down alternating between handstands and cartwheels and part of me thought those fun days were behind me. Looks like I may have been wrong! I will try and do it again this week and this time I will get a photo (Just in case you require proof).
Nikki Bradley is the founder of Fighting Fit For Ewing's, a campaign to promote awareness of Ewing's Sarcoma. Nikki is sponsored by All Sports in Donegal Town. Support her campaign by giving 'Fighting Fit For Ewing's' a LIKE on Facebook or follow her on Twitter @nikkibradley59
Posted: 12:01 pm April 10, 2015