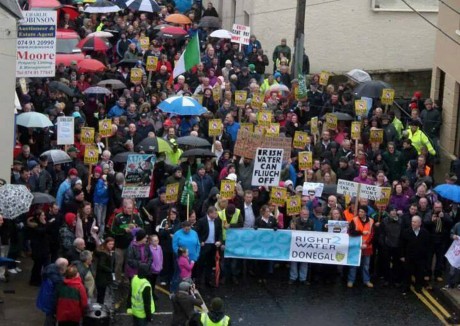 A MAJOR protest against water charges will take place in Letterkenny this weekend and campaign group 'Right2Water; are encouraging people from across the county to attend.
Spokesperson for Saturday's 'Bin the Bills' protest in Letterkenny, Maire Mc Fhearraigh said: "People have attended in large numbers the recent Right2Water organized protests and we call on people to come along and make this protest every bit as well attended as those."
Owen Curran of Right2Water West Donegal said: "Protests like this one are important. They send out a very visible and vocal message that we have not gone away. That we will not allow our water to become a commodity for a private company, and we will not pay again for water that we already pay for through general taxation."
Protests also boost the confidence of people by reminding them we are not alone in our struggle.
Philip Mc Fadden of Right2Water Inishowen said: "The water charges can be defeated by a combination of Protest, Political Pressure and Non payment. The message we will be sending out on Saturday is- we are not paying , and we stand in solidarity with all who take that stance."
The protest will assemble at Mr Chippy, Station Roundabout, Letterkenny at 2pm on Saturday, April 25.
Posted: 11:26 am April 20, 2015