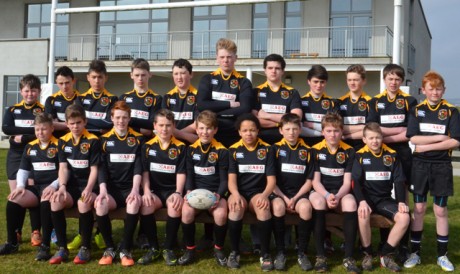 The winners of the AEG Grassroots competition for a training session with a Rugby Legend have been chosen and Letterkenny U14s topped the charts with the most votes of all! The other two winners are Abercwmboi RFC U12s from the Cynon Valley, Wales and Trojans U14s from Southampton.
The club will find out in the next week which Rugby Legend will host the training session. The training session will take place at Letterkenny's home ground.
Letterkenny RFC U14s coach Carl Quinn commented on behalf of all the boys, "I would like to thank AEG for our new kit. We are overwhelmed, overjoyed, ecstatic and cannot believe we have won a training session with a Rugby Legend. The boys are looking forward to the day already. Thank you so much."
The winners were selected by supporters votes from a short list of 20 clubs which have already won Canterbury kit and a state-of-the-art, energy efficient, AEG ÖKOMix washing machine.
Letterkenny leapt into the top twenty winners thanks to John Burke who put a case forward for his Letterkenny to be selected. Burke commented, "My son has just started playing rugby with Letterkenny RFC. I have never seen a sports club that is so well organised, but is also super-friendly. I think a fantastic club such as this deserves a fantastic prize like this."
AEG and Canterbury have been caring for Grassroots rugby for 4 years now. Since the last Rugby World Cup, over 200 clubs across the UK have received their Ultimate Kit & Laundry package, which includes bespoke Canterbury kit and AEG washing machines. Supporting Grassroots Rugby means giving young people the chance to play rugby, be part of a team and learn skills they'll use for the rest of their lives. AEG and Canterbury are committed to the game, to players, to coaches and to touchline heroes everywhere.
Posted: 2:19 pm April 16, 2015