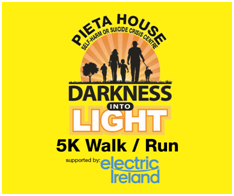 WITH less than two weeks to go, the people of Donegal are being asked to sign-up to take part in Darkness Into Light 2015, the annual Pieta House fund-raising and awareness event which is taking place in three venues across Donegal including in Letterkenny and in Maghery-Rosses and Donegal Town for the first time.
Supported by Electric Ireland, Darkness into Light is a unique, early morning fund-raising event which begins in darkness at 4.15am as thousands of people walk or run a 5km route while dawn is breaking. You can pre-register for the events at www.darknessintolight.ie. The Letterkenny walk will start at the community centre, with Donegal town starting at St. John Bosco centre and the Maghery walk starting at Maghery community centre.
"Darkness Into Light is a truly unique and moving event. The sight of thousands of people in yellow t-shirts walking and running towards dawn is simply extraordinary. The event has turned into a national awareness campaign loved by Irish people everywhere. I'm encouraging everyone to get out and register, don't let this special event pass you by" said Joan Freeman, founder of Pieta House.
Darkness Into Light is now in its seventh year and last year's event attracted 80,000 participants in 39 locations across Ireland, including in London and Sydney. With the number of locations doubling this year, organisers are expecting over 100,000 people to take part. 80 venues will host the event on the island of Ireland and abroad including in Australia, Canada, England, Scotland and the USA.
While Darkness Into Light raises much needed funds, it is also about awareness, solidarity and local communities. This year, Pieta House is asking those taking part to connect with others at the event. Walkers/runners are encouraged to speak to the person beside them, tell a story or simply say hello, connect and acknowledge one another. Make your presence known.
Pre-registration venues for Donegal:
Donegal Town: Register at Supervalu Bundoran, Donegal town and Killybegs
Letterkenny & Maghery: www.darknessintolight.ie
Posted: 10:59 am April 29, 2015