BY CHRIS MCNULTY
THOMAS McMonagle completed one of those light question-and-answer interviews for Finn Harps' official website in pre-season and left no ambiguity as regards his hopes for the season.
"My hope for the season is promotion it's as simple as that," was the typically no-nonsense reply.
At that stage, Harps were well down the bookmakers' chalkboards, as far out as 25/1 with some to win the First Division.
The odds have shortened considerably, with Harps looking down from their lofty perch at the top after going seven games unbeaten, taking them to the end of the first quarter of the campaign. You won't find too many with their heads craned towards the season's end around Ballybofey, though.
"Look, for us it is all about the next training session and the next game," McMonagle says ahead of the meeting this week with Shelbourne
"We've learned a lot from last season – maybe we looked too far ahead too early. Consistency is the key. Ollie (Horgan) will keep us well grounded and we have some very good, experienced heads in the dressing room.
"We've been happy with how we've started the season, but we have to keep that going now.
"We were down in Shelbourne on the first night of the season and we didn't give much away at all. It was cagey, though. Hopefully we can have a bit more confidence in ourselves this week.
"Shelbourne will be there or thereabouts come the end of the season. They're a top team.
"When it comes down to it, you've teams like Shelbourne, UCD and Wexford who probably expect to be up there challenging. Hopefully we can break into that group too."
On Saturday night, McMonagle was the Harps hero at Ferrycarrig Park as his 68th minute winner gave Harps a slender 1-0 win over Wexford Youths. McMonagle strode in to apply the finish to Gareth Harkin's neatly placed corner.
Following the goals of Damien McNulty in Waterford and Keith Cowan against Waterford, McMonagle is relieved to be off the mark.
"I was determined to score – I didn't want to be falling too far behind 'Dee' and Keith," he says.
Harps, though, have worked on their attacking set pieces, something that Cowan alluded to after the recent 2-0 win over Cobh at Finn Park.
McMonagle says: "We've done a lot of work on set pieces – defending them and attacking them. We knew that it was something that needed work.
"We got together, a few of us, and we kind of just said that we'd put some extra work in. We have plenty of height in our team and really we should have been scoring more from set pieces.
"Wexford is always such a hard place to go. Bar the FAI Cup game last year, we've never got anything cheap down in Wexford. Going down there is always a struggle. They're so well set up and always make it difficult for away teams to get a result.
"We've a lot of confidence in the team at the minute and that's helped us."
Saturday's was also the sixth clean sheet in seven League games that Harps have kept. That solidity has been the foundation for their excellent start to the campaign and only UCD have managed to pick the lock to get a way beyond Ciaran Gallagher.
McMonagle says: "Clean sheets are something that we take pride in – a lot of pride.
"We were very disappointed to concede the two goals against UCD and that was actually as much about how we conceded them. We usually pride ourselves in how we defend from set pieces, but we didn't perform that night.
"We've been delighted obviously to keep clean sheets in the other League games though. Ciaran Gallagher has been a massive help since he's come back into the team.
"He's constantly talking, always organising and he can always pull a big save out of the bag too – like the free kick against Cobh that he turned over the bar."
With Packie Mailey still to come into the squad following an injury and the likes of McNulty and Ruairi Keating having missed spells already this season, Harps' squad has stood up to the tests so far.
For McMonagle, who has really profited from Mailey's ongoing absence, the closed-season additions have proved vital.
He says: "The subs that we've had this season says a lot about the strength in depth that we have. Even if you're on the pitch playing, it gives you such a lift if you look over and see someone like Kevin McHugh or Brian McGroary coming off the bench.
"We've been a lot more clinical this year and you can feel the whole squad more confident. I think a lot of that is because of the competition for places and the results we're getting."
McMonagle played for Harps in every game of the 2012 season while on loan from Derry City and found himself converted into a centre-back, having played mainly as a left-back before then.
He played again for Harps in 2013 before last year making a trip across the Atlantic to play for Temecula FC in California. He'd been training with Derry City and Roddy Collins, then the City manager, arranged the move through a connection with ex-Celtic player Paul Byrne, who was managing the National Premier Soccer League outfit.
The 24-year-old Burnfoot man – who has scored eight times in 77 Harps appearances – says: "I loved it. It's a life, really. You're training, playing matches and then there's the weather. It was a great experience. The standard in America is getting better all the time.
"I felt I had to prove myself when I came back – to myself and to other people. I got into the side regularly enough and was happy enough how I was doing.
"It's been good this year to get in the pre-season and get into the team from early on in the year."
Posted: 12:00 pm April 24, 2015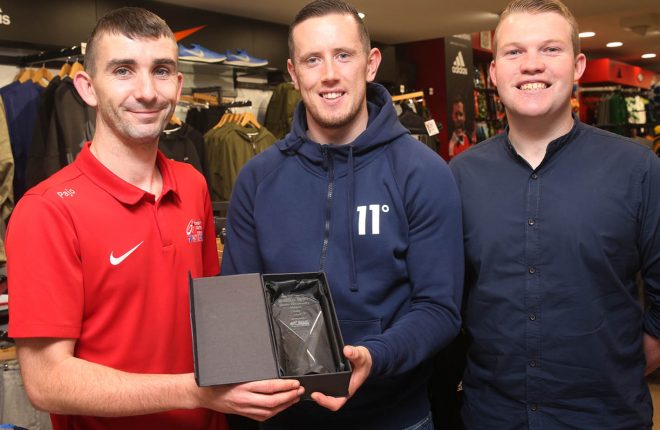 Gallagher was awarded the Donegal News Sports Personality of the Month award for July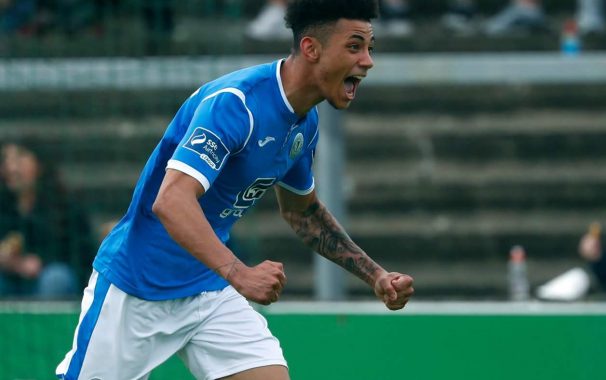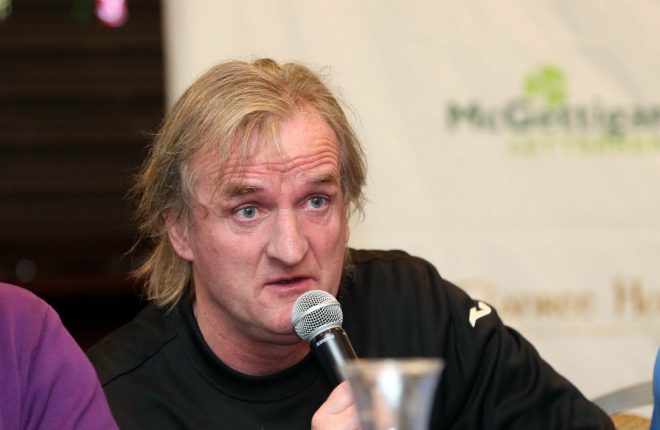 FINN Harps manager Ollie Horgan is wary of Galway United as they make their way to Ballybofey for a...