YOUNG Donegal graphic designer and online entrepreneur Paul Feeney flew out to Russia on Friday last, in the next stage of his quest to visit all the world's top 100 wonders.
Paul from Lower Killult, Gortahork and fellow traveller Tim Petch from Dorset have dispensed with the nine to five, Monday to Friday, grind in favour of life as 'Digital Nomads'.
The modern day principles of what work entails has changed and Paul is now able to operate his business interests in Cork and Mayo online from any corner of the globe.
All he needs is a laptop, a reliable internet connection and a steady supply of coffee!
A past pupil of Pobal Scoil Chloich Cheann Fhola and Limavady College, Paul completed his degree in Technology and Marketing at De Montfort University in Leicester.
With over two years travel experience now under my belt (all of which was Asia) I am very excited for an easier trek through the Eastern world of Europe. Hours on buses, trains and planes can inexpensively transport me to new countries and cultures and being from Ireland the issues of Visas becomes a lot easier and cheaper.
My general plan is to make my way from Saint Petersburg, Russia all the way down to Athens, Greece.
TRallinn,My timeline being from Friday last, March 26, to late December. I couldn't leave Ireland without a good Saint Patrick's day under my belt. With this timeline I hope to fully enjoy and explore 8 to 12 cities throughout the Eastern European region.
If our pathes cross please feel free to say hello
So… First Stop: Saint Petersburg, Russia
Monthly fund needed to live in Saint Petersburg, Russia – €1300
My first stop is the intriguing and charming city of Saint Petersburg, Russia. Russia's second largest city with a population of near 5 million I have heard it is a very different city to Moscow and Russia in general itself. Pretty much every Russian I met on my travels recommended Saint Petersburg over Moscow saying the city has a very different energy and charm. With the Neva River running through the city and even the city itself being an UNESCO World Heritage Site I am very excited to begin my new adventure exploring the culture and beauty this great city.
Of course another a great plus for visiting Saint Petersurg it is home to The Hermitage, one of the largest art museums in the world and world wonder number 94 on the Virtually Nomadic World Wonders list.
I will of course also make an attempt to visit Moscow while in Russia to visit 2 more world wonders. The Kremlin and St Basils Cathedral.
No. 2 Tallinn, Estonia
Monthly fund needed to live in Tallinn, Estonia – €2390.80
Tallinn is the capital and largest city of Estonia with a population of near 500,000. A vibrant and growing city it has popped up on many a digital nomad list of great cities to live and work in. Being cheap, beautiful, friendly and most importantly having decent wifi. Tallinn seems to be a new entrepreneur friendly city for Digital Nomads with a great mix of locals and foreigners. Even Skype originated from here.
No.3 Riga, Latvia
Monthly fund needed to live in Riga, Latvia – €1200
My third stop will be Riga, the capital city of Latvia. With a population of near 700,000 people I have heard great things and by May / June the Summer sun should be coming in nicely 🙂 A country of cheap beer, fast wifi and great people I am intrigued to explore this old and historical city. I have even already found my office. The Techhub – a shared digital cafe with fast wifi, many online entrepreneurs and free coffee!
No.4 Vilnius, Latvia
Vilnius is another great city of Latvia which a friend has recommended. It is always great to live a in a city not overcome by tourism. To sit in local bars and cafes and soak up an atmosphere untouched. I will very much try to squeeze in a few weeks in this city. The main reason however I want to visit Vilnius is, it is known for its Hot air balloons rides! Anyone can soar over the city for a fraction of the cost as other cities. Hot Air Ballooning (would you believe) is a huge hobby and passion in Latvia. A hard one to knock off the bucket list and Vilnius just might be the place. Check out the Virtually Nomadic bucket list – Any suggestions?
A Travel Tip from Virtually Nomadic: Regus
Regus provides serviced offices and hot desks with great wifi and free coffee in over 2000 locations across 100 countries. Any capital city or even large city in the world now has a Regus office and they are always housed in beautiful buildings. They really are a great way to enjoy work in new cities as their offices are always in the centre of cities. Regus offices are located in all of the cities I have selected for my journey. I might not always use them but it gives me great comfort knowing they are there. Sometimes trying to find that cool digital nomad cafe on a Monday morning can be tough when in a new city with a different language. However myself and Tim have always found it easy enough to find Regus offices because as mentioned there addresses are in prominent locations and the buildings themselves important and large.
A monthly Regus membership fee is around €40 which for me is far less than the amount of coffee I drink daily when sitting in cafes.
Posted: 3:03 pm April 1, 2015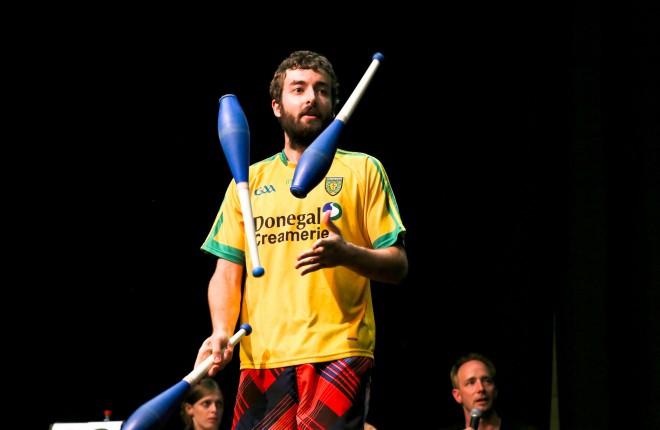 A RAPHOE man with a passion for juggling is making a name for himself having scooped two major titles...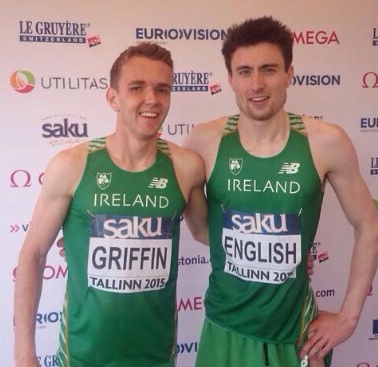 HAVING two Donegal athletes in a European elite athletics final is the stuff of dreams.
Last month, young Donegal graphic designer and online entrepreneur Paul Feeney flew out to Russia in the next stage...