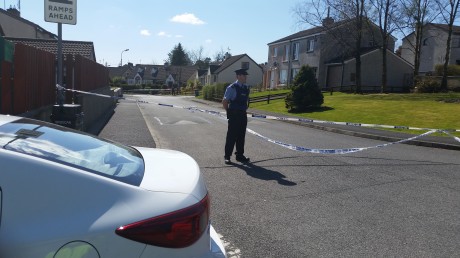 BY C.J.MCGINLEY
GARDAI are awaiting the arrival of the army bomb disposal team following the discovery of a suspected explosive device in Letterkenny.
The hand grenade type device was discovered in the garden of a house by its owner at around 11.45 am this morning at Glencar Park, on the Circular Road not far from the hospital.
Gardai were alerted and they immediately secured the area and evacuated residents. The 'pineapple' type hand grenade needs to be inspected before it can be properly identified and where it came from.
One theory is it may have been transported in topsoil to the site as the houses were being built.
Gardai have confirmed the grenade was found by the owner of the garden as he was taking part in a clean-up of the state.
Detectives sealed off the entrance to the estate and the area has been cordoned off awaiting the arrival of the Army's Explosive Ordnance Disposal team.
They are on route from Athlone and due to arrive at the scene around 4.30pm.
Local Garda Inspector Goretti Sheridan confirmed the device is a hand grenade.
"The area has been sealed off and will remain that way until the EOD team arrive to examine it," she said.
One local man said nobody really knows what is going on or how the devise ended up on the estate.
Posted: 1:46 pm April 18, 2015