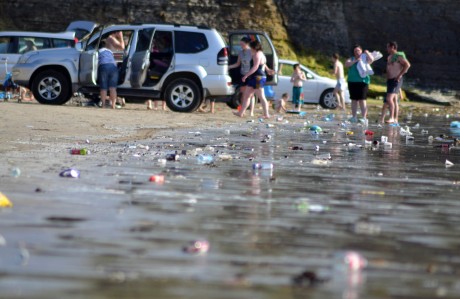 DONEGAL'S 19 beaches tested for the quality of their bathing water in 2014 have all gained excellent classification bar one – The Lady's Bay in Buncrana which was given "good" status in relation to Ecoli testing.
The other 18 which were granted top categorisation were: Ballyheerin, Fanad; Bundoran; Carrickfinn; Culdaff; Downings; Drumatinney; Fintra; Killahoey; Lisfannon; Marble Hill; Murvagh; Nairn; Port Arthur, Derrybeg; Portnablagh; Portsalon; Rathmullan, Rossnowlagh and Shroove.
Of these beaches 16 were granted excellent standards across all three criteria – E Coli, Enterococci status and Overall.
Lady's Bay in Buncrana scored "sufficient" on both Enterococci and Overall.
Portnablagh scored "Good" in both of these categories as did Rathmullan.
The EPA published these latest results this week which are from testing done on the waters during 2014.
Nation-wide 128 of the 136 waters tested (94.1 per cent) met the minimum required standard of 'Sufficient'. 103 bathing waters were classified as 'Excellent' (75.7 per cent); 15 were classified as 'Good' (11.per cent); 10 were classified as 'Sufficient' (7.4 per cent); 1 (Trá Inis Oirr) was classified as 'New' (0.7 per cent) and 7 were classified as 'Poor' (5.2 per cent).
The Environmental Protection Agency who publish the bathing water quality results stressed that our bathing waters continue to be of a very high standard, with 94 per cent of identified bathing areas meeting new stricter EU standards.
These new standards are almost twice as strict as those previously applied.
A new category of 'Excellent' quality has been introduced and three quarters of Irish bathing waters met this new classification. 
Just seven bathing waters (one inland, six coastal) failed to comply with the minimum mandatory standard and were classified as being of 'Poor' quality. 
Pollution sources appear to be mainly linked to the impacts of wastewater discharges.
Dr Matt Crowe, Director of the EPA's Office of Environmental Assessment said that overall, the quality of Ireland's bathing waters continues to be very good and new standards introduced in 2014 provide a much higher level of protection for bathers," he said. 
Dr Crowe was speaking at the launch of the Environmental Protection Agency (EPA) report Bathing Water Quality in Ireland – A Report for the Year 2014.
Dr Crowe continued,
"Disappointingly, seven identified bathing waters have been assessed as being of poor quality.  The relevant local authorities and Irish Water have put management plans in place to tackle the main pollution risks at these beaches.  The test will be whether or not we see the necessary improvements in water quality at these beaches."
The seven which failed were: – Youghal, Front Strand, County Cork; Ardmore, Waterford City and County; Duncannon, Wexford County Council; Rush (South Beach), Fingal County Council; Lilliput (Lough Ennell), Westmeath County Council; Clifden and Ballyloughane, both Galway County Council areas.
Posted: 2:41 pm April 21, 2015