CIT Wandesford Quay Gallery in County Cork is delighted to host a group exhibition bringing together a diverse group of Irish sculptors together for the first time.
Quintet, officially opened last Thursday, features the artists James Horan, Michael Quane, Martha Quinn, Blessing Sanyanga and Donegal's own Redmond Herrity.
This exhibition is unique in nature as there are no prints, editions and casts, no reproductions or ephemeral artworks; each piece is a unique sculpture.
At first glance this is an eclectic mix of figurative and abstract/geometric sculpture, but on closer inspection each artist works to find a balance between the historical weight intrinsically attached to a traditional sculpture material and the creation of contemporary art works. 
  
Redmond Herrity, who works from his home town of Letterkenny, has travelled extensively, creating private and public commissions.
During his time in India in the late 1990s, he was inspired by street sculptors and in a later trip to Australia worked with stone for the first time.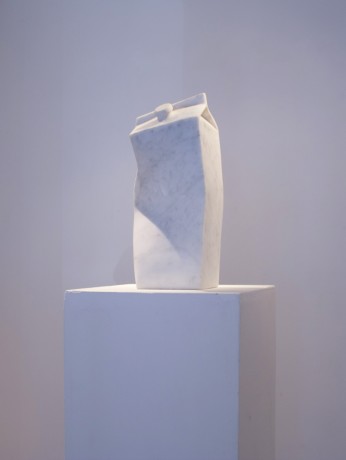 He graduated from Leitrim Sculpture Centre in Ireland in 2001 and later worked in Carrara, Italy, where he began mastering the ancient techniques of marbleportraiture. From classical portraits to modern sculpture, Redmond's work spans centuries.
 
Recycled Stone, Redmond's most recent project, represents a conversation between past, present and future.
Using stone, the most immutable of media, Redmond has fashioned a conversation among some of society's most disposable items – the tins and plastics that we use and recycle – while recalling the ancient stories passed on to us across the millennia using the same medium.
The ancients carved their gods, left as a story for the future. In this new project, at once playful and provocative, Redmond asks what we are leaving for the generations to come.
Is disposable consumerism our God now? But while plastic rubbish takes away from the beauty of our natural surroundings, Redmond's work in marble and limestone uses that organic and timeless material as a stark contrast to the damaging disposables it is used to represent. 'Quintet ' runs until April 18 at the CIT Wandesford Quay Gallery, Co. Cork.
For further information on this exhibition contact Nicola Carragher at ccad.gallery@cit.ie
Zara McDaid can be contacted on Facebook, search 'Zara Mc Daid Art', www.zaramcdaid-art.blogspot.ie, e-mail is zaramcdaid@hotmail.com, Twitter @zaramcdaidart and Instragram ZARA MC DAID
Posted: 12:13 pm April 10, 2015