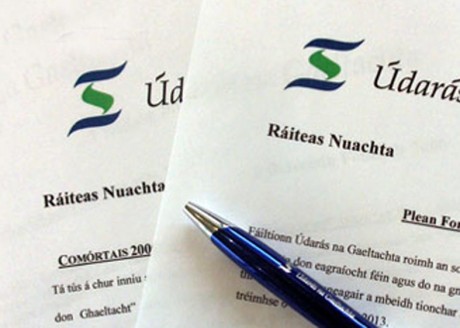 Údarás na Gaeltachta has announced it is to support the creation of 300 new jobs on the Gaoth Dobhair Business Park over the next 3 years (2015 -2017).
It also stated that 80 new jobs have been approved recently for the Business Park and will be coming on-stream in the near future.
The agency is to invest a total of €4.7 million over the next three years on the Gaoth Dobhair Business Park to support further enterprise development, employment creation, and carry out a capital redevelopment programme on a number of its properties.
An action plan, presented in the Enterprise Development on the Gaoth Dobhair Business Park this morning report sets out a programme that aims to attract employment creation opportunities to the Business Park.
The Report was produced by the Fóram Forbartha Fiontraíochta, an interagency working group, set up by Údarás na Gaeltachta as an immediate response to the announcement by Largo Foods in March 2014 that it was to cease manufacturing in Gaoth Dobhair and transfer all its operations to its manufacturing facility in Ashbourne, Co Meath, resulting in the loss of 146 jobs.
The purpose of the Fóram was to propose solutions and make recommendations that would lead to new enterprise development and job creation opportunities on the Gaoth Dobhair Business Park.
Údarás na Gaeltachta's CEO, Steve Ó Cúláin, said that the report highlighted a number of challenges for enterprise development in the area and added that Údarás was confident that the level of employment on the Business Park would grow over the next few years.
"We welcome the Fóram's report and the analysis, findings and recommendations contained within. An tÚdarás will prioritise its resources and put in place a programme aimed at attracting new enterprises to locate on the Gaoth Dobhair Business Park," he said.
"We are also pleased to announce that, during the term of the Fóram's work, five new projects have been approved for the Business Park. These enterprise projects will lead to the creation of 80 new jobs, some of which are already in place and the remainder are planned to come on stream over the next 2 years.
"We are encouraged that three new start-up businesses are locating on the Business Park, and that further development is planned by two companies already located there, Euroflex Teo and Fáisc Miotail." Mr Ó Cúláin added.
Posted: 11:23 am March 27, 2015