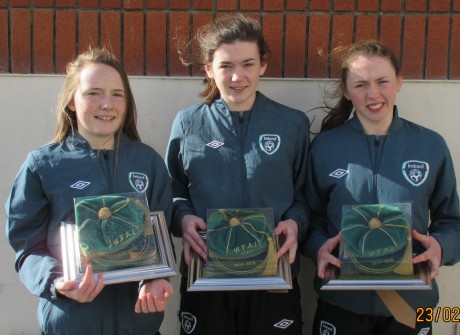 Ciana Brogan, Zoe Green and Caoimhe Walsh were all part of the U16 Irish International Squad who competed in the recent UEFA Women's U16 Development Tournament under the management of Sharon Boyle.
Ciana Brogan is the daughter of Howard and Amy Brogan from Galdonagh, Manorcunningham, and has played with Lagan Harps since the age of 7.
"I remember the first big tournament I was involved in with Lagan when I was 8 going to Dublin with former Underage Internationals Nadine Crawford and Lauren Harper who are quite a bit older than me, we played in the U12 WFAI National Competition and winning the Plate Section, going then to watch a Senior Ladies international game and dreamed one day I would be an International Player. I played right back against Czech Republic getting 60 minutes and then played the same position against Romania, but pulled by calf muscle and was subbed after 30mins. I was disappointed not being able to play against Denmark. I was extremely delighted standing for the National Anthem for the Austrian game, but my highlight was getting my first international cap at the closing presentation," Ciana said.
Zoe Green is the daughter of Paddy and Ann Green from Rathmullan, and has played with Lagan Harps since she was 11. Zoe joined Lagan after she was eligible to play in the Schoolboys league and had to get a girls only team to keep playing soccer Zoe was part of the Mulroy Senior Girls Team who reached the FAI Schools B final last month.
"I was delighted in getting picked for the squad, you go to trials and training camps and never quite know if you will get picked or not, you always doubt if you good enough or not. I didn't get playing the first game, but played the full game against Austria and Denmark at left back. It was a great way to spend mid-term break, best week of my life. The next stage of international is trying to get on the U17 International team in September. I'm delighted to get my first international cap and hopefully it the first of many," she said.
Caoimhe Walsh is the daughter of Hughie and Deirdre Walsh from Kerrykeel and granddaughter of well-known Donegal League patron John Joe McAteer. Caoimhe started her football with Fanad Utd under the management of Liam McKinney and Caitriona O'Brien. She jointed Lagan Harps at 13 when Fanad ceased at U14 level and Caoimhe wanted to continue playing football. Caoimhe was also part of the Mulroy Senior Girls team who reached the FAI B Senior Cup Final. "I got word that I got International Trials in September after representing Donegal Women's League in the Gaynor Cup. It is hard work and since October we have been on a special diet and strength and conditioning programme. The teams we played against were much bigger and stronger than us. I played the last 20mins against Czech Republic and started the Austria game and got 70mins. All the girls were so nice and have made many new friends from all over the country. We have all been advised to keep up with our programmes, to get capped at International level is a great honour", says Caoimhe.
The Donegal Women's League is developing the underage structures and over recent years have quite a few players being chosen for trials and getting on International teams. Later this year in April Amy Boyle Carr from Donegal Town F.C. and Tyler Toland from Raphoe Town will represent Ireland at U15 Schools level in Scotland in the Bob Doherty Memorial Cup.
Three more Lagan players, Caroline Gallagher, Kaneshia McKinney and Amber Barrett, were called up for trials for the Irish College World Games squad.
Posted: 4:55 pm March 4, 2015