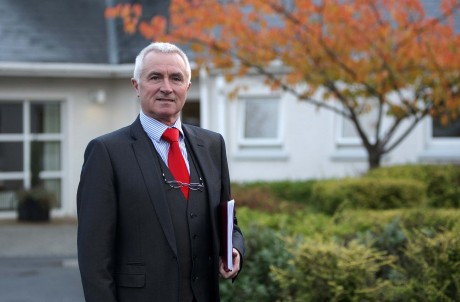 Dr James McDaid, Chairman of the Donegal Hospice.
BY C.J.MCGINLEY
A SPIRALLING four-fold increase in the costs of providing vital home care services for terminally ill cancer patients, draconian government cutbacks and serious concerns about the bed occupancy levels at Donegal Hospice have been highlighted yesterday (Thursday).
Speaking exclusively to the Donegal News, Dr James McDaid, Chairman of the Donegal Hospice, stressed they were committed and "always happy" to assist in helping to provide the best hospice service possible.
However, it was becoming increasingly difficult in growing and challenging economic circumstances. 
A cumulative drop of €200,000 in donations, a 15 per cent cut in government funding for home-care services and growing demands for the service is placing it under severe pressure.
The Letterkenny GP and former TD, who helped set up the hospice in Donegal in 1988, has warned growing financial demands on the voluntary committee were 'unsustainable' and could wipe out cash reserves in a few years.
As well as an annual bill of €800,000 to support the running costs of the Donegal Hospice at Carnamuggagh in Letterkenny, the movement helps fund home care packages for patients with seven nurses and up to 20 hospice nurses around the county.
"From last year alone when we spent up to €30,000 providing home care service supports, the bill this year will be around €130,000. That is a huge increase. But, let's be clear, we're not in the business of complaining. The Donegal Hospice committee is happy to give whatever support we can to ensure cancer patients get the best possible treatment," he said.
"This is not sustainable and our financial resources (reserves) could be wiped out in four to five years at this rate. But, we have a very niche service and we must do all we can to support it," he added.
Dr.McDaid has also expressed deep disappointment that during the worst overcrowding crisis ever at Letterkenny General Hospital, bed occupancy levels at the Donegal Hospice are not being fully utilised by the HSE.
The Donegal Hospice at Carnamuggagh costs over €2million to build. The annual running costs are around €2.7million. The Consultant led service is run by the HSE and staff are employed by the state agency. There are eight beds in the unit that also includes three doctors.
"At the height of the bed crisis in Letterkenny Hospital, I contacted the HSE to express concern there was only one patient in the hospice for two weeks and why were Oncology patients not being transferred over to the hospice.
"I got no response, which to say the least is very disappointing," Dr McDaid added.
Posted: 9:03 pm March 12, 2015