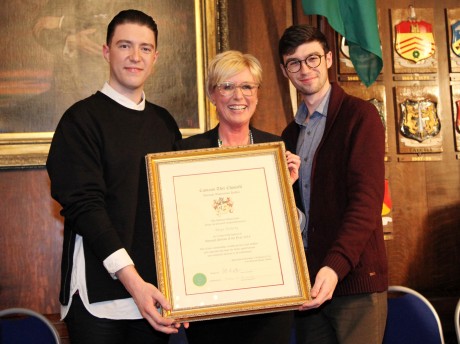 Moya Doherty with her sons Paul and Mark after the announcement in February she was the new Donegal Person of the Year.
BY C.J.MCGINLEY
((See Donegal News on Monday and Friday for full reports and pictures by Declan Doherty and C.J.McGinley)
UP to 600 people from all over the country are expected in Dublin
tomorrow night (Saturday) for the presentation of the Donegal Person
of the Year to Moya Doherty the creater and producer ofand world wide
accliamed 'Riverdance'.
Speaking to the Donegal News, Ms Marie Ryan Public Relations Officer for the Donegal Association in Dublin, who organise the prestigious annual event, said it would be a really special night with a 'Riverdance' theme.
"This year is a really special year one for us all as we are honouring Moya Doherty, who is a household name in Ireland and around the world.
"We are expecting a huge crowd in the Regency Hotel in Drumcondra to celebrate with
Moya and her family and friends.
"We have many people travelling from Donegal, Dungloe, Pettigo & surrounding areas and further afield to attend this event," she said.
Moya,  is only the sixth female to receive this special award and she
follows in the footsteps of of Áine Nic Giolla Bhríde, Brid Rogers, Margo O' Donnell Mairéad Ní Mhaonaigh and Anne Marie Ward.
"The Annual Gala Ball is a highlight for the Association and one which
always brings Donegal people together to celebrate with the Person of
the Year.
"There has been huge interest with tickets selling fast. It
promises to be a night to remember with plenty of entertainment and
surprises in store for all guests in attendance," Ms Ryan added.
Mr Martin McGettigan, President of the Association, said Moya's story
was a 'remarkable one' and how from an early age she showed an
interest in the media.

"Through her hard work and effort in the Arts, she has encouraged
young people across the globe to take pride in Irish Dancing," he
said.
He spoke of how she displayed courage and dedication to put Riverdance
together with 25 million people seeing the show in 32 countries
worldwide.
"She has created employment with her productions and many of the
people who were involved with them have gone on to set up their own
Irish Dancing schools at home and abroad," he said.
Moya, and her parents and four brothers and sisters moved to Dublin
from Pettigo.
Her parents, Daniel Doherty and Patricia Mulhern from
Dungloe were teachers. Their families owned the pubs Beady's and the
Corner House on the Main Street in Dungloe.
They eventually retired to Donegal, where they had built a house on
Carnmore Road and enjoyed a wonderful retirement.
The family moved to Dublin in 1964, however, they spent every summer
in Dungloe with cousins. Both her parents worked very hard to succeed
and Moya credits her Donegal roots with giving her a very strong work
ethic and determination to succeed.
She was recently appointed as the Chairperson of the RTE Board. Moya
is also director of Tyrone Productions, one of Ireland's leading
independent television production companies and was a founding member
of Today FM radio station.
"I never thought that I'd be honoured in this way, but I'm so
delighted and look forward to the year ahead," Moya said.
"It means the world to me," she added.
Tickets are now very limited so please contact the Public Relations
Officer at 087 2439317 to get a chance of a late ticket or visit
www.donegalassociation.ie to buy them onl
Posted: 2:31 pm March 6, 2015