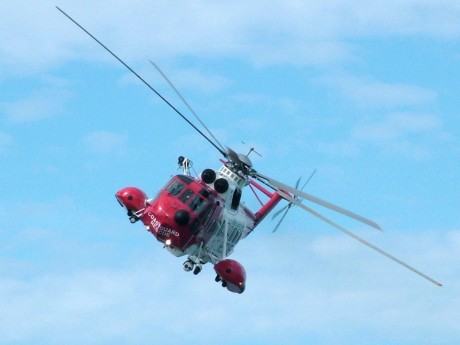 BY C.J.MCGINLEY 
A GARDA  investigation is underway after a coastguard rescue helicopter was targeted with a laser device during a major search for a missing man in Gweedore in the early hours of this morning.
The Sirkorsky Rescue 118 helicopter from Sligo was part of a land and air search for a 52 year-old man who had been reported missing yesterday afternoon.
The man's body was found in a quarry lake at 5.30a.m this morning. He has been named as father-of-four, Mr Paddy "Jack" Gallagher from Meenaniller, Gweedore.
However, the news that a helicopter came under attack during the night search has angered many locals in the area.
They have described the news as 'absolutely outrageous' as it put the lives of the pilot and his crew in danger.
"This is a very dangerous thing to do. The helicopter pilot could have been blinded by the laser and and that could have been catastrophic," one local said.
"Somebody could have been killed or seriously injured. We all hope the gardai catch those responsible as soon as possible," the local man added.
Gardai in Milford District Headquarters  have confirmed they are investigating the laser incident. Mr Gallagher was a married man with three daughters and a son. His wife, Patricia is being consoled by family and friends.
He was reported missing yesterday and a huge land, sea and air search was launched         Gardai then requested the local fire service to pump a lake and the man's body was discovered.
The body was found in a quarry lake on a hillside close to the Gaoth Dobhair wind farm at around 5.30am in the townland of Meenderrygamph,not far from the well known An Chuirt Hotel of Gweedore at 5.30am.
Posted: 2:28 pm March 14, 2015