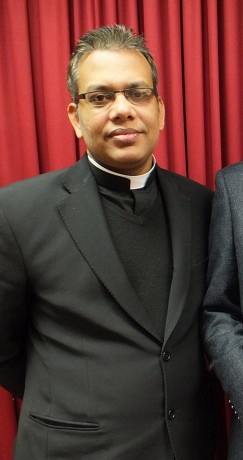 BY C.J.MCGINLEY
THE priest at the centre of row in west Donegal is adamant he has not apologised for comments about gay marriage he made at a mass over the weekend.
Fr John Britto contacted the Donegal News early this morning to state categofically  that he had not apologised for speaking  out against gay marriage during a sermon at mass on Saturday night at a mass in Annagry.
Fr Britto is admant he didn't issue an apology.
There were reports in the local media and from locals that at  10a.m mass on Wednesday in St Mary's Star of the Sea Church, Annagry,  Fr John Britto had apologised for the remarks.
He told the congregation that county GAA footballer Eamon McGee was wrong to back the 'Yes' campaign in May's referendum on same sex marriage.
However, Fr Britto told the Donegal News this morning he hadn't mentioned Eamon McGee's name at all at mass on Wednesday.
"False information had been supplied to the media," he said.
A number of people attending that mass objected to the comments at left on Saturday night, but local clergy said this was not related to the remarks made by Fr Britto.
Locals  had also said that Fr Britto had also apologised at the mass to Eamon McGee for allegedly criticising the  footballers's stance in support of the 'Yes' Equality Campaign in May referendum on same sex marriage. Fr Britto says he didn't even mention Eamon McGee's name.
The Indian born Carmelite priest splits his time between Annagry and Derrybeg.
Eamon McGee was due to speak on Radio na Gaeltachta on Wednesday after news of the weekend store emerged but he pulled out of the interview saying he was concentrating on his footballing career.
The Donegal News contacted Eamon McGee on Wednesday morning after the news broke. He declined to comment further as it was a distraction to  games and training coming up that he wanted to concentrate on for the mean-time.
Locals were also annoyed the remarks were made at a sensitive time as family and friends of a local woman who died last year were in attendance for her first anniversary memorial mass.
They also claim young children preparing for first Holy Communion in the congregation with their parents and families and it was not appropriate to listen to such remarks.
Posted: 9:36 pm March 11, 2015