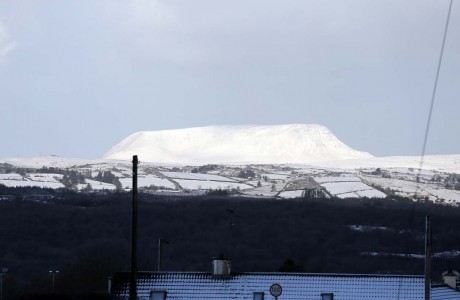 BY C.J.MCGINLEY
DONEGAL woke up this morning covered in a blanket of snow.
Heavy overnights falls of hail and snow left some roads highly dangerous with gardai appealing for motorists to drive carefully after fresh early morning falls.
Over 2cm of snow fell last night (Sunday) across the county. Almost all roads are passable with care but slush is making driving conditions hazardous.
There are reports of a serious car accident between Raphoe and St Johnston. Emergency services are at the scene.
Gardai warned while major roads are passable secondary and minor roads are treacherous in places.
Footpaths are also very slippery in small towns and villages but all schools are open, although some buses were delayed due to the weather.
Temperatures had dropped to freezing overnight and are currently just four degrees Celsius.
The latest chill, coming on the back of heavy snow falls in January-February, is expected to continue until Wednesday.
A spokesman for Donegal County Council said the cold snap will last until Wednesday at the earliest with the wintery showers changing to rainfall.
Posted: 11:36 am March 2, 2015