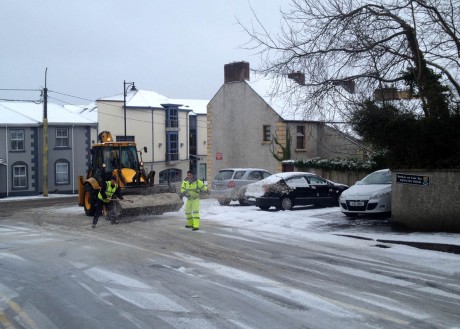 BY C.J.MCGINLEY
SCHOOLS closed, bus services cancelled and some emergency services 'snowed in' after heavy overnight snow and ice left roads treacherous across Donegal this morning.
Drivers are being urged to drive on dipped headlights this morning to avoid further danger following a plethora of road traffic accidents.
Ambulances that were due to travel to Galway were cancelled while Gardai are 'snowed in' at stations around the county.
Motorists called for the Back of Errigal Road to be closed while the notorious Meenaroy and Barnesmore Gap roads are passable with extreme caution.
"I was going to take the bus from Glenties to Letterkenny this morning, but it didn't run, so I had to walk back to the house and get the car," one driver said.
"It was as bad as I've ever drove over the Meenaroy," he added.
The roads around Letterkenny were treacherous early this morning as baked in snow and ice made driving conditions hazardous.
Many of the secondary routes had been untreated until after 9am as a council gritter was 'broke down'.
Council workers then worked frantically to 'grit' roads wth the help of diggers and tractors.
Another irate motorist said it was 'pandemonium' around the town, particularly on higher ground, with vehicles crashed and left abandoned along secondary routes.
Many motorists on their way to work had been forced to abandon their vehicles and walk to work.
One motorist said he'd never seen the roads in as bad a condition in Letterkenny.
"I've never seen the roads as dangerous here," he said.
"Cars, vans, buses and delivery lorries were left abandoned all over the place. It was chaos,"
he added.
Posted: 10:14 am March 3, 2015