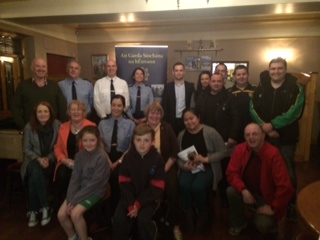 BY C.J.MCGINLEY
HIGHLY organised and professional criminals are targeting homes, cars, garden sheds and valuables across Donegal.
Gardai have confirmed the gangs are mobile, transient and in some cases using the guise of bicycles in rural parts to scout potential targets.It follows a spike in burglaries in recent weeks around the Letterkenny and in different pa
The news was released at the launch of the Neighbourhood Watch for The Grange area of Letterkenny in The Glencar Inn tonight.
Residents were briefed by senior gardai including Crime Prevention Officer, Sergeant Paul Wallace and Superintendent Michael Finan about burglary prevention tips.
These included the need to secure all doors and windows, light up homes, timer switches, storing valuable in a safe and have fully monitored alarms. These are all available on www.garda.ie
Gardai have also just launched 'G-Tube'- an online resource for helping to crack crimes based on the You-Tube model where pictures and CCTV is uploaded for the public to see and help identify suspects.
Community police officers, Garda Maeve Logue and  Garda Ann Marie McGrath have been meeting with residents over the past few weeks and assisting in setting up the very useful Neighbourhood Watch scheme.
Posted: 9:51 pm March 24, 2015