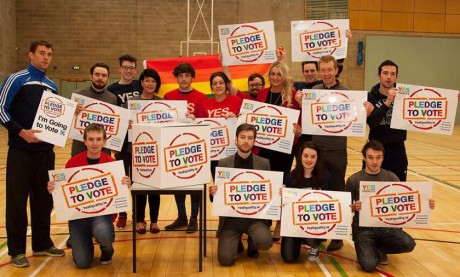 BY C.J.MCGINLEY
SUPPORTERS of the 'Yes' Equality Campaign in Donegal have expressed disappointment with comments made by a priest in Annagry on same sex marriage.
It's reported that a number of people walked out of a sermon in Annagry after Father John Britto spoke in favour of a 'No' vote during his sermon.
He was critical of Donegal All-Star footballer Eamon McGee, from Gaoth Dobhair, who has recently backed the 'Yes' camp in the marriage equality referendum due in May.
Fr Britto hasn't been unavailable so far today for comment following his remarks. However, he is quoted as saying on Independent.ie that he had no further comment to make to the media.
"The media always twist Indian-born Carmelite priest Father John Britto spoke in favour of a 'No' vote during the weekend sermon in Annagry, west Donegal, criticising Donegal footballer Eamon McGee who has backed the 'Yes' camp in the marriage equality referendum.
Fr Britto said he didn't see anyone leave during the sermon.
"I won't talk to the media because the media will only twist what I have to say; I speak to the people in church and I only the speak the truth and the Word of God," he said.
"I didn't see anybody leaving. I didn't see that," he insisted.
However eye-witnesses confirmed more than a dozen people walked out of the Mass.
Among those who left were relatives of a woman who was being remembered during the anniversary Mass.
"Fr Britto said Eamon McGee was wrong to back the Yes campaign," said the member of the congregation.
"He (the priest) is entitled to his view but it didn't go down well. After the Mass some members of the congregation approached the family of the woman being remembered to say they only stayed because of them, otherwise they would have walked out too."
Noel Sharkey, who is from the parish and served there as an altar boy, is part of the Yes campaign in Donegal.
He said today: "As a Catholic and a gay man from the area, I think it's essential that we engage on this issue in a respectful and tolerant way, and I ask people to avoid using hurtful or upsetting language.
"Yes Equality Donegal asks people to focus their attention on the key principles of love and equality as they make their mind up on this important issue."
Locals are annoyed with the development. Local Councillor Micheál Cholm Mac Giolla Easbuig has come out in support of the well known footballer.
"Eamon McGee is to be commended for standing up for equality," said the Independent Councillor.
"In calling for a 'Yes' campaign in the referendum in May, he has become a target for religious conservatives on social media. Now, he finds himself condemned from the pulpit. That is wrong and it is unacceptable that a young man is hounded in this way for taking a stand for others rights."
"Recently in Annagry, the community cinema had a showing of the film Jimmy's Hall which told the story of Jimmy Gralton, an Irishman with a social conscience who fell foul of the Catholic Church and was denounced, hounded and finally, forcibly deported from his homeland.
"Fortunately those days are now gone. Our society has changed and we are emerging into a more tolerant and accepting environment, although sadly, there are evidently some who want to drag us back to those dark days."
"I will actively campaign for a 'Yes' vote in the referendum. I believe it is an important step towards equality and towards a more open and tolerant society which will benefit us all." Cllr Mac Giolla Easbuig said.
A member of the Yes Equality Donegal Campaign has said that they are disappointed that people have been upset by comments made by a priest on gay marriage.
Noel Sharkey is from Annagry parish and he is part of the Yes Equality Donegal Campaign. He said everyone is entitled to their opinion but is disappointed if some people were hurt by the remarks.
Posted: 4:53 pm March 10, 2015