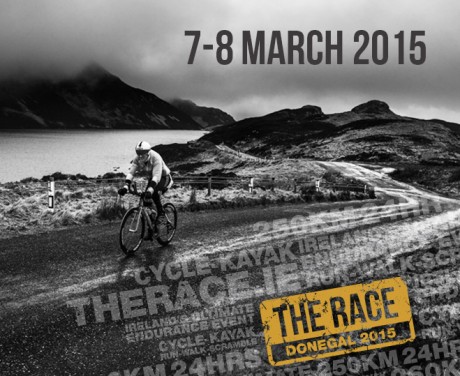 THIS week I caught up with an old University friend of mine, Diarmuid Ó Conchubhair to talk about an upcoming event that is set to get peoples hearts racing.
Just before sunrise on March 7, ultra-endurance athletes from all over Ireland and the world will line up to take on what has already been recognised internationally as one of the ten toughest events on the planet.
The Race, www.therace.ie, as it is aptly named, is held in Northwest Donegal and has brought Ireland to the forefront of 'ultra-endurance' racing. Popularity for the sport continues to spread worldwide despite the fact that this event is only in its second year of existence.
When discussing the location choice, The Race co-creator Maghnus Collins said: "In Donegal we found a landscape that took our breath away, but more importantly we found a course that would be as tough as anything internationally and would guarantee a significant rate of attrition amongst competitors."
So if you or I mere mortals decided we wanted to take part in this race what would be expected of us? Are you ready for this?
• Stage 1) 22km run [that's a half marathon] 
• Stage 2) 15km kayak 
• Stage 3) is a 100km cycle to the bottom of Muckish mountain 
• Stage 4) is a 5km mountain run [up and down Muckish] 
• Stage 5) is another cycle but in the dark this time covering 65km 
• Stage 6) 43km run  
The Race is unsupported which means each competitor must carry their own food/water and takes place over a 24 hour period reaching 250 kilometers.
In preparation for what lies ahead, Diarmuid organised a treadmill marathon in aid of the charity he is supporting, Gorta- Self Help Africa. He said: "My gym (NRG Health and Fitness) were great and opened their doors to the general public along with donating one day gym passes to my charity. Between the gym, the general public and supporters the 'marathon on a treadmill' raised approx €300, bringing my total so far to €1,200."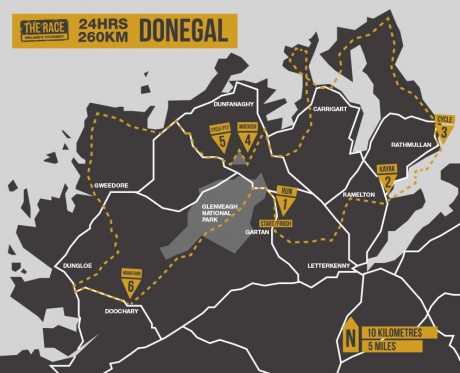 Although Diarmuid is busy with work and training, he took time out to answer my questions:
What made you want to compete in something like The Race?
I have a bit of a track record when it comes to taking part in endurance events such as marathons, ultramarathons, ? Ironman's and full Ironman's but nothing which has required a full 24hours of being on the move. I guess I'm always on the lookout for a race that will push me to the limits of what I can do; I have yet to find that race! 
Have you ever done anything this intense before?
It's funny, the longer the race the less intense they become. I'd be more nervous at the start of a 5km run than at the start of an Ironman for example. With the distance and time so great it actually allows you more time to combat things which may go against you or are out of your control, for example a flat tyre on the bike. Over the course of a 24hour race the few minutes taken to fix a puncture is very little in comparison to the same thing happening during an Olympic distance triathlon or half Ironman. 
Talk us through a typical training session for The Race. 
I have a great coach in John Greaney at the Hurt Locker, in my opinion he is one of the best coaches in the West of Ireland, as well as being a damn good competitor. A typical Saturday over the past few weeks has involved a 6am start with a half marathon run to kick off the day, followed by a 1hour kayak and then a 80-100km bike with a short run thrown in to test my legs. During the week my time is limited with work,  I have to be smart about my training time and concentrate on key sessions such as heart rate specific turbo sessions at the Hurt Locker or running track. 
How important is nutrition when preparing for something as big as The Race?
Nutrition and proper choice of clothing are key elements for anyone who want to compete the Race. I was in attendance as a supporter at last year's event and the majority of competitors who pull-out did so due to lack of adequate clothing. In shorter events such as marathons or Ironman's, you can get though on race gels, but for an event of this nature I think real food will stand to competitors. I'll be getting the Turkey pasta ready from Thursday evening!
Have you any advice for first time endurance competitors?
Build distance gradually, there is no point trying to go from a half marathon to an ultramarathon in one go. There is so much learning involved in the gradual steps up the distance ladder that it pays off in the long-term. Building distance gradually will also help prevent injury.
What element of The Race are you most looking forward to?
The finish! Ah no, to be honest, what I like about The Race is the location, time of year etc. as a competitor you know it's going to be wet, windy, cold and that you'll be doing more of the race in the dark than in daytime, I love that mental side of the challenge – there's a magic in the misery!
I would like to wish Diarmuid the very best of luck for March 7 and hope to include a follow up photo of him finishing within his estimated time of 22 hours. If you would like to support Diarmuid's charity you can do so by visiting mycharity.ie/event/diarmuidtherace/
Nikki Bradley is the founder of Fighting Fit For Ewing's, a campaign to promote awareness of Ewing's Sarcoma. Nikki is sponsored by All Sports in Donegal Town. Support her campaign by giving 'Fighting Fit For Ewing's' a LIKE on Facebook or follow her on Twitter @nikkibradley59
Posted: 12:55 pm February 26, 2015