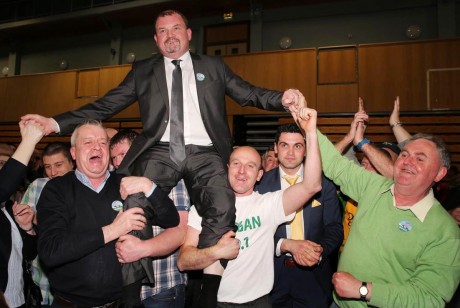 BY C.J.MCGINLEY
A NEW bye-law being explored in Donegal could curb or even wipe out speeding and dangerous driving offences in private and council estates across the county.
Under current legislation, local authorities only have the power to install traffic calming measures in council run estates and where there is social housing.
However, members of the council have unanimously supported a new proposal from Fianna Fail party whip, Cllr Ciaran Brogan.
He is calling for a new bye-law to be adopted that gives the local authority the power to put in safety measures in privately owned estates if there are growing complaints and problems.
His comments come as a national review is taking place of all speed limits within building developments with a view to reducing speed and providing proper traffic calming management.
The Department of Environment is proposing a system to reduce speed limits in housing estates to 30km/hr in conjunction with a new sign at the entrance to indicate the presence of children.
The review will include discussions with residents to establish the speeding issues and concerns.
They have asked all local authorities to review estates in their care. However, Cllr Brogan wants the government to go a step further and provide bye-laws to cover private and unfinished estates.
"This is a becoming a huge issue for people living in private estates Residents groups have raised it with us, as councillors and we should reflect their concerns. If we can adopt a bye-law that reduces speed limits of all driving we should do so,"
"The remit only allows us only to do so within council area, but not private estates, We've provided ramps and traffic calming measures but I think this is something the national legislators need to examine the matter urgently," he said.
Director of Roads-Transportation with the local authority, Mr John McLaughlin, said the review would include public consultation and ultimately the making of bye-laws by the elected council which is expected to include input from gardai.
Mr McLaughlin said he will raise the proposal at national level.
"At this stage there is no direction on private unfinished estates or private estates that are not in the control of the council, but I'd be happy to raise the proposal here with the department,"
"The legislation as it stands only applies to roads and estates in control of the councils but I'd be happy to explore this bye-law at national level also and if agreed it could be inserted into our County Development Plan," Mr McLaughlin added.
Posted: 5:18 pm February 9, 2015