BY CHRIS MCNULTY AT CROKE PARK
RORY Gallagher sat for the first time in the Hogan Stand's press theatre as the Donegal manager on Saturday night.
Gallagher was at ease in his surroundings, even if his side had just lost by five points to Dublin. Fielding the usual February questions from the Gaelic Games scribes, Gallagher, attired in his now-trademark Donegal bobble hat, was disappointed by his side's strike rate at Croke Park.
Donegal kicked ten wides and dropped another two short on a night when Dublin played the last 25 minutes a man down after Kevin McManamon's red card.
"That's probably the most disappointing thing because we would pride ourselves in being fairly accurate when the chances arise," Gallagher said.
"There were a number of what we'd call simple opportunities in that period coming up to half-time in particular.
"If we'd got them and been ahead when the man went off it might have changed the game. Those things happen, it's early in the year and some of those lads don't have an awful lot of training done, but it's something for us to work on."
After McManamon's departure – sent off with Dublin two up – Donegal managed just three points while Dublin posted 1-3, including Jack McCaffrey's brilliant late goal.
Gallagher said: "I thought at that particular time (of the sending off) we were playing well and were controlling the game. We missed chances coming up to that and we probably should have been level or ahead at that stage. It's disappointing that we didn't push on when we had the man extra.
"I thought, to be fair to Dublin, their couple of subs made a difference and they upped the ante."
An undercurrent was clear from the last meeting of these sides, even on the usually milder stage of the National League. But a return to headquarters and a rematch of some of the heavyweights of the game was always going to liven things up somewhat on a cool February night.
Gallagher said: "Those things go on. I don't think that there was too much out of order in it. I think there was a lot of competitivenes and physicality in it. To be fair to Maurice Deegan, I thought he let it flow as best he could.
"Every game takes on a life of its own and both teams know each other fairly well at this stage. I thought that it was extremely competitive."
Donegal have now almost all of their own big guns back after Neil McGee and Colm McFadden came off the bench for first appearances of the year.
Gallagher said: "Colm and Neil joined in at training during the week: Neil trained Monday and Wednesday; Colm trained on Wednesday, so we included them.
"They have been fit for the last number of weeks; it was just a matter of integrating them into it again. The competitive games are the best thing to bring them on and, where possible, that's where we'll introduce those type of players."
Donegal had started well with a brace of Michael Murphy points, but they were rocked with the concession of a goal after only five minutes to Cormac Costello, with goalkeeper Paul Durcan getting injured in the process.
Durcan had to have a wound above his eye stitched by Kevin Moran after taking a bang to the head, while Paddy McGrath's early withdrawal was put down to a hamstring injury.
Two games in, with one win and one defeat, Gallagher has the look of a man who's satisfied with how the early days have gone.
He said: "We got a lot of the first-team squad back in action again, which is very pleasing. They're back quicker than we probably expected at the beginning of the year.
"It was disappointing to lose, but tonight's game will bring us on massively. I thought that we played, in large parts, much better than we did last week. It's great to come here to Croke Park, for all our squad, but particularly the new members of the panel.  That game will stand to them.
"You know coming into the game that you have to defend every single play because they'll create chances, bar we park the bus, and we decided that we'd come out and try to play a wee bit higher up.
"We'll take it one game at a time and we'll focus on ourselves, we'll build a bit of fitness and togetherness in the next number of weeks."
Asked for his thoughts on Dublin, Gallagher made reference to the Leinster champions being 'a wee bit more cautious' but noted that they 'carry a huge threat' before heading off into the night with his parting words: "Look, I'll not worry about them for a long time yet."
When next their swords might cross, the respective blades will have been well run over the whetstone.
Posted: 6:00 pm February 9, 2015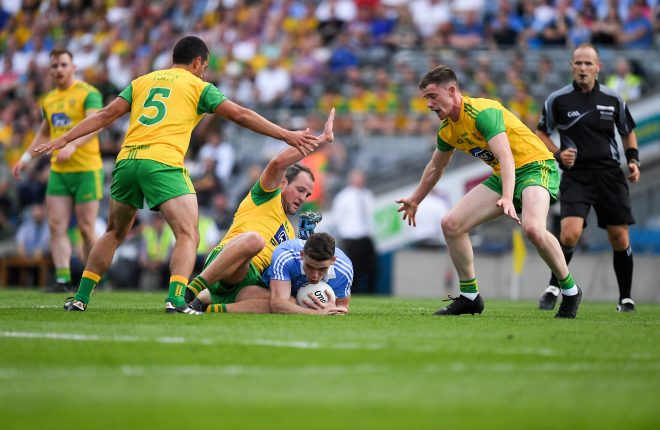 There were high hopes ahead of the first weekend of the Super 8s, but unfortunately the football didn't live...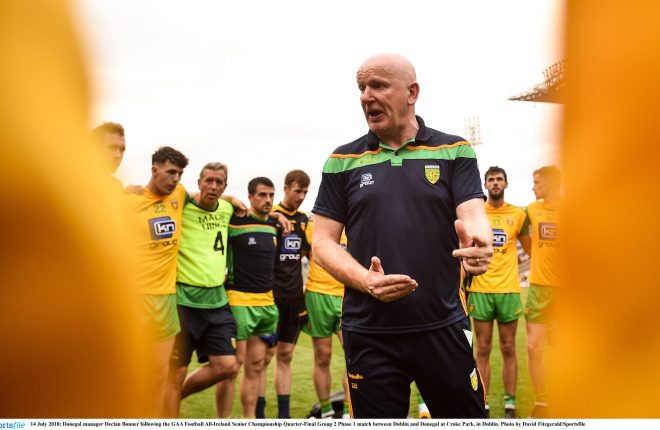 Donegal face Roscommon in Dr Hyde Park on Saturday at 5pm.