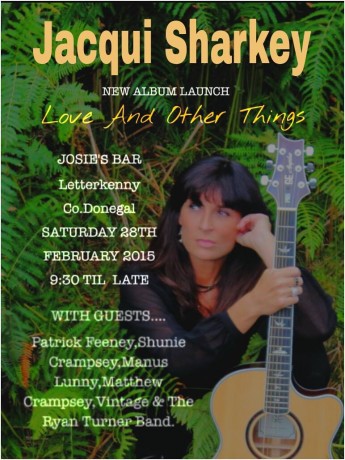 BY C.J.MCGINLEY
JACQUI Sharkey will launch her new album 'Love and Other Things' in Josie's Tavern, Letterkenny on Saturday night.
Some of the top artists in the local music scene will be with her for the special night with the well known and popular musician-artist and songwriter. They include the likes of Shunie Crampsie, Ted Ponsonby, Vintage and the fabulous Ryan Turner Band.
Other special guest popping in will be Manus Lunny, Ian Smith, Martin Crossan, Theresa Kavanagh, John Doherty, Dave Wintour, Ray McLoughlin and Michael O'Donnell… some of Ireland's best!
"I've been so busy the past week, doing promotional work for the album, so it will be great to get it launched," Jacqui told the Donegal News.
"'I'm really looking forward to performing some of the tracks from the new album and meeting plenty of people," she added.
The session in Josie's begins at 9.30pm and runs till late. So, if your up for a good evening's crack and the best of country music go along and dance the night away.
Posted: 7:10 pm February 26, 2015