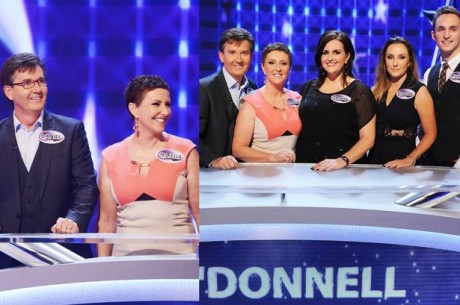 SINGING legend Daniel O'Donnell and family have scooped £30,000 for their chosen charity after starring in a brand new series of 'All Star Family Fortunes' exclusively on TV3 screened tonight (Sunday)
The King of country music was joined by wife Majella, niece Trisha,
step-son Michael and step-daughter Siobhan as they took on daredevil television presenter Helen Skelton and her family.
Tens of thousands of pounds were up for grabs but only one family could make it through to play the Big Money final, worth a whopping £30,000.
Daniel and family were playing for a charity that is very close to their hearts. 'Donegal Mind Wellness' was set up last year with the help of Majella. It's a charity that helps people with depression.
Daniel and Majella scored five top answers winning the grand prize of £30,000 for their charity.
Speaking to host Vernon after winning the lot, Daniel said: "It's for 'Donegal Mind Wellness'. It helps people with depression. Majella help set it up. It's just going to be such a wonderful amount of money to help people. It's tremendous. Thank you so much."
Before the competition got underway, viewers were invited into Daniel's home where his family gave an insight into his wardrobe and revealed how Daniel loves to keep his hair "pristine".
The Skelton's got off to a good start but it was the O'Donnell's who were firing on all cylinders. After making it through to the big money final, Daniel chose wife Majella to join him in answering the five final questions.
Posted: 9:53 pm February 1, 2015