BY CHRIS MCNULTY
COLÁISTE Ailigh make history on Wednesday evening when they meet North East Institute from Magherfelt in the Ulster Bank Ward Cup final (Celtic Park, Derry, throw-in 7pm).
One of the youngest secondary schools, opened in September 2000, Coláiste Ailigh won their first Donegal title when they overcame Gairmscoil Chú Uladh in the final. Their win over Ballybay Community College in the semi-final catapulted them into this week's decider – and now Seosamh Mac Ceallabhuí and his men have their eyes on the Ward Cup.
"We're not going to lose – we're going to give this our best shot," the Coláiste Ailigh manager said.
"We're all excited about playing our first ever Ulster final. We're looking forward to it.
"We're improving all the time. We have a small panel of about 20 players, but they're developing an understanding all the time. We're progressing with every game."
Current county minor panelist Odhrán MacGinley – outstanding in their Ulster semi-final – is one of the stars of the show, with Maitís MacCeallabhuí, the Toal brothers Oisin and Darragh, and Brian McIntyre others to have been around county development squads.
Against Ballybay, Coláiste Ailigh had goals from McGinley, Maitís Mac Ceallabhuí and Jeaic Mac Ceallabhuí to fire them into the final.
In late 2013, Coláiste Ailigh moved to a state-of-the-art school at Knocknamona, with the facilties including a new full-size GAA pitch.
Mac Ceallabhuí said: "The new facilities at the school make it very easy to train. Not that we ever had any bother in that end. Thanks to St Eunan's, we always had facilities, but we always had a bus trip whereas now we just step outside the door. We're training two or three times a week and we're making great strides.
"We started with small numbers and we actually still have quite small numbers. A lot of the footballers would go to St Eunan's College and we kind of struggled to get footballers in. In fact, we have four 'non footballers' on the current squad. We do what we can with what we have.
"We have a large spread of clubs. They come from all over, people who are very interested in Irish and we've students coming from Downings, Buncrana and all across Donegal. We're very proud of that."
Coláiste Ailigh overcame Gairmscoil Chú Uladh twice on their way to the provincial final, also defeating them in the group stages before they endured a tight battle against them in the county final.
Mac Ceallabhuí said: "There was a level of expectation that we'd win, but they gave us a fright that day. It was the second half before we took control of the game."
McGinley's early goal set them on their way against Ballybay and the strikes by the Mac Ceallabhuí brothers, sons of the manager, copper-fastened the win.
Mac Ceallabhuí said: "We had some phenominal defending that day. We really nulified them that day with the two Toals and Hughie (Ó Merlehan), who is a rugby player, was brilliant. Our defenders did a huge job and we managed to slither away from them. That was the best we've played all year."
By and large, this same crop of players won an All-Ireland Under-16 basketball title in 2013.
Mac Ceallabhuí is well aware of the challenge that faces his men on Wednesday night – but the Glenties man is relishing the tie.
He said: "It's brilliant to get it in Celtic Park.
"They're a big team.They're a massive, strong outfit. They'd remind me more of a Fresher's team. They're big, strong men. We're pretty young in comparison to them.
"There's great excitement in the school. We're a small community. We win together and we lose together."
COLÁISTE AILIGH PANEL: Diarmuid Ó Donnléibhe, Caoimhin MacLochlainn, Piarais Ó Gallachóir, Darragh Ó Tuathail, Óisín Ó Tuathail, Odhran MacFhionnghaile, Cathair Ó Dochartaigh, Oisín Ó Cléirigh, Maitís MacCeallabhuí, Sean Mac a tSaoir, Pádraig Ó Riain, Hughie Ó Merlehan, Brian Mac a tSaoir, Allen Pasoma, Jeaic MacCeallabhuí, Fiachra MacLochlainn, Seosamh Ó Donnléibhe, Fionn Ó Cléirigh, Peadar Ó Connaghan, Niall Ó Hannagain, Pádraig MacDiarmada, MacDara Ó Heanaigh.
Posted: 9:30 am February 25, 2015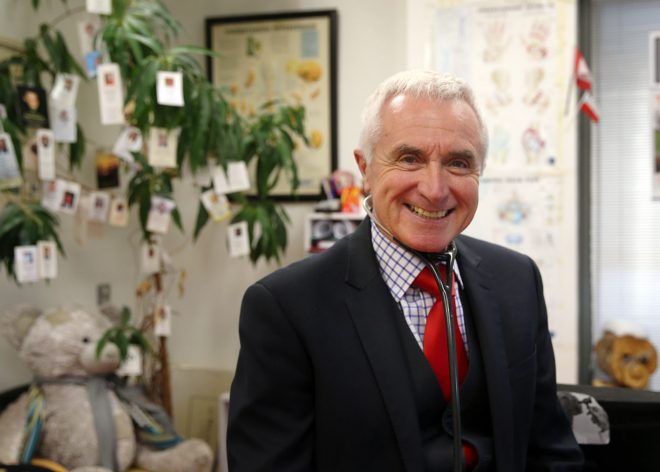 Letterkenny based GP Dr James McDaid said that an 'awful' lot of people across Donegal were using benzodiazepines.