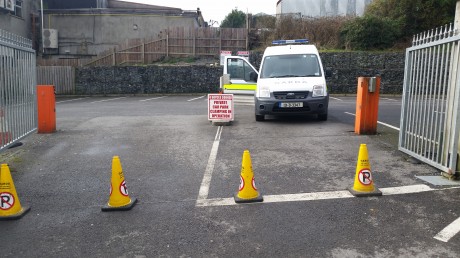 The car park at the centre of garda investigations
BY C.J.MCGINLEY
TWO more juveniles have been arrested in relation to an alleged 'assault', on a young girl in Letterkenny at the weekend.
Gardai have remained tight lipped about the incident which happened in the vicinity of a car park around 9.45pm on Friday night as it is highly sensitive given the ages of those allegedly involved. However, it is believed to be of a sexual nature.
Two juvenile males arrested close to the scene on Friday night were released without charge on Saturday evening at around 6pm. They had been held under Section 4 of the Criminal Justice Act.
Gardai have declined to comment or be drawn on the ages of the parties allegedly involved, how the alarm was raised and if the victim and alleged attackers were known to one another.
Those involved are believed to be in the 16-17 age category.
An under-age non alcohol disco was taking place at a  nearby premises and up to 1,000 teenagers from all over Donegal were ferried into Letterkenny in buses to attend the event held to coincide with Valentines Weekend.
Posted: 10:59 pm February 16, 2015