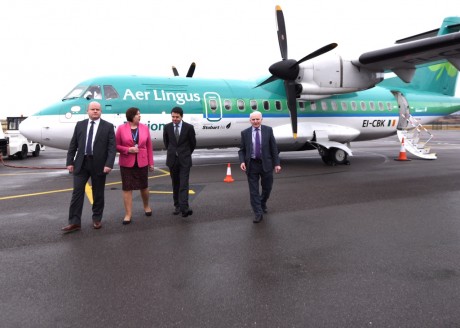 BY C.J.MCGINLEY
AER Lingus Regional, operated by Stobart Air, today flew its first flights to Dublin Airport as the new operator of the PSO (Public Service Obligation) route from Donegal. The airline will fly twice daily return flights seven days a week, all year round.
Stobart Air, which successfully tendered for the PSO contract last November, expects to increase passenger numbers on the route, with through connections to and from North America.
Minister for Transport, Tourism and Sport Paschal Donohoe TD was aboard the airline's inaugural flight, marking the beginning of Aer Lingus Regional flights from Donegal to Dublin.
Twenty-two passengers, including local solicitors, lecturers, cancer patients and business people were on the inaugural flight to Dublin early this morning.
Due to frost and ice the flight was delayed by over an hour and half by after taking off shortly before 9.40 was in Dublin 35 minutes later. it is scheduled to leave Donegal Airport at 7.55am and be in Dublin for 8.30am allowing business people a full day for work in the capital. The new flight service returns before mid-day and again at 7pm from Dublin.
Fares are from less than 35 euro, one way.
Representatives of the airline, Donegal Airport management, members of the airport's Board of Directors, Mr Martin McGettigan, Chairman of the Donegal Association in Dublin and people from Donegal living in the capita were on the special return flight with the minister.
It left Dublin at 12 noon and was in Carrickfin at 12.35.
Minister Donohoe said that he was pleased to fly on the inaugural Aer Lingus Regional service to Donegal today. Commenting:
"For Ireland to continue down its path of economic recovery, a well-connected transport infrastructure that connects all four corners of the country is essential. Stobart Air's operation of the Donegal Dublin route is a positive step towards achieving and maintaining this, providing an essential link between Donegal and the capital, facilitating business and encouraging tourism."
Aer Lingus Regional will also operate the Donegal to Glasgow service, with up to four flights per week.
Sean Brogan, Interim Chief Executive Officer of Stobart Air, also a passenger on the inaugural flight, added:
"Stobart Air is proud to operate the Donegal Dublin PSO. We fly to regional centres across Ireland and the United Kingdom, and recognise the importance of air access to the Donegal community.
"Our twice daily services between Donegal and Dublin facilitate day return travel from Donegal for both business and leisure passengers."
"Equally, it will allow for easier connectivity to transatlantic services from Dublin for Donegal passengers and for US passengers to visit Donegal, one of Ireland's most scenic tourist destinations," he concluded.
Passengers can now book from Donegal to the US with Aer Lingus and avail of the US immigration pre-clearance facilities at Dublin. This also opens up the US inbound leisure market to Donegal as a starting point for the Wild Atlantic Way.
Anne Bonner, Managing Director of Donegal Airport, said: 'We look forward to working with the Stobart Air team to provide this essential air service for the people of Donegal and enable the Region to access business and tourism markets that were otherwise difficult to access.'
"The Aer Lingus Regional brand is a first for Donegal with huge opportunities for through connections. Donegal's peripheral location more than meets the criteria for a PSO service and we thank Minister Donohoe and his Department for their continued support in recognising this."
Vincent Harrison, Managing Director of Dublin Airport, said the airport was delighted to welcome Aer Lingus Regional/Stobart Air on the Dublin-Donegal route: "We look forward to working closely with Aer Lingus Regional and Stobart Air to further market this service to consumers,
Over 35,000 passengers travelled through Donegal Airport last year- a 5 per cent increase on 2013.
It is hoped the announcement of 500 new jobs in the leading  pharmaceutical firm, Randox, to be located 12 miles away in Dungloe will also be a big boost to the airport this year.
Posted: 1:56 pm February 2, 2015